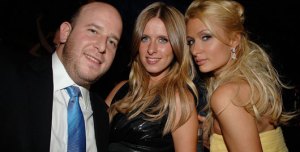 Spencer Morgan did a little digging and found out that when Marquee shut down over the summer because of a water main break, there were also some shady dealings going on there. Is Marquee owner Noah Tepperberg in a whole lot of legal hot water?
Irina Aleksander sweet-talked her way into Liam McMullan's 21st birthday party and discovered that the sons of society photographers like a good pair of Brooks Brothers pants just as much as the next guy.
Ms. Aleksander also got on the horn with socialite-slash-actress (aren't we all!) Annie Churchill to gab about her new online venture: a fashion retail website and online fashion-lifestyle TV show (ooh!) hosted by (you guessed it!) Ms. Churchill herself.
And wide-eyed Caroline Bankoff fell under the spell of Benicio Del Toro at a screening of his new movie, Che. Mmmm, more, por favor!