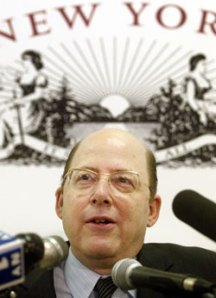 Inside The New York Sun's spacious Chambers Street offices on Tuesday, Sept. 30, the old-fashioned journalistic decorum that had defined the paper's culture was nowhere in sight. The 20-somethings that made up the reporting ranks were in for one last time wearing blue jeans and T-shirts—a far cry from the conservative broadsheet's long-standing dress code, which required reporters to come in with polished shoes and nice suits. "It's the casual Friday that The Sun never had," said Grace Rauh, the 29-year-old city hall reporter.
On this paper's final day, reporters turned in their keys and began throwing away all the clutter on their desks into giant blue recyclable bins; they filled out paperwork and dumped their precious objects into a Sun tote bag that a lady from human resources had handed out. Some were keeping other mementos, like Albany reporter Jacob Gershman, who stashed away a framed promotional sign to take home. "Illuminate Your World with a Different Point of View," it read.
Staffers seemed in buoyant spirits, some even laughing.
It was a far cry from the monthlong anxiety that had followed editor and founder Seth Lipsky's announcement that the paper was in danger of closing at the end of the month if it didn't find new financiers.
As early as Sunday night, informal e-mails began circulating to that effect. "I look forward to working with you at my next post," wrote Rebecca Fox, associate features editor, in a missive to business contacts.
But all day on Monday, Sept. 29, there was not a word from Mr. Lipsky. Would there be a lifeline? Would The Sun become a Web-only publication?
Then, at about 4 p.m., Mr. Lipsky told reporters and editors to drop their phones and gather round in that office the size of a big, bright lunchroom. 
"I told the staff," he said in an interview with Off the Record soon afterward, "that I tend to be an optimist. And I held out hope for a favorable outcome as late as midafternoon today."
Whatever funding Mr. Lipsky was hoping for had not arrived, and it probably didn't help that at the moment he was waiting for a last-ditch investor to save the paper, the Dow Jones plunged 777 points. Mr. Lipsky, who had described losses as "substantial," told Columbia journalism students back in 2006 that the paper lost up to $1 million a month, according to The Columbia Journalism Review. 
Money wasn't the only thing expended.
"There's always been a ton of amazing energy—in an era when newsrooms are being gutted and shrunken down, and The Sun had this amazing can-do spirit," Ms. Rauh said.
"Lipsky conveyed a love of newspapering that you don't get a lot of at the moment because the industry is completely going to shit," said a Sun alum, Seth Mnookin. "You hear, 'Oh my God, I can't believe this is the career I chose,' and 'Holy fuck what am I doing in five years?' And with him it's like, 'I am so lucky this is the career I chose.'"
Mr. Mnookin started at the paper in 2002 and covered city politics before leaving for Newsweek; he's currently on contract with Vanity Fair.
He continued: "I saw him about two weeks ago at a book party for someone who worked with us at The Forward, and by this point the stories had come out that The Sun might close. I saw him and said, 'Hey, Seth,' and he said, 'Hey Mnookin! How'd you like to come work for me?' Ha-ha. Of course the paper might not be there in two weeks, but he was serious in some way."
Since so many young reporters have spent time at the six-and-a-half-year-old paper, the alumni network is strong, a point of pride for Mr. Lipsky. Ben Smith, a writer at Politico.com, was at The Sun in 2002 before joining The Observer.
"It was a great writer's newspaper," he said. "And one of the great things about it was that the editors would back you to the hilt."
Mr. Smith added that Mr. Lipsky was loyal to a fault—to the point when you told him he was leaving the paper, it all seemed quite perplexing.  
"You get the sense that he felt like he was running the best newspaper in the world," he said.
jkoblin@observer.com