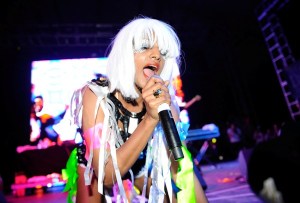 Lots of news on the M.I.A. front, folks. First off, Ms. Maya Arulpragasam, is totally freakin' preggers! Just check out Pitchfork's photos of her performing at her retirement-breaking Diesel xXx party this weekend at Brooklyn's Pier 3. "I'm creating a baby," she told Pitchfork just before she went on stage. Yeah, no shit… and congrats!
According to her interview with Pitchfork, to be released Wednesday, the father isn't Diplo, it's this guy—that would be Benjamin Brewer, frontman for New York rockers The Exit, and son of Warner Brothers CEO Edgar Bronfman Jr. The pair announced their engagement back in June. Unfortunately, we can't tell you anything about the kid's gender, name, or arrival date. You'll just have to wait and see…
In the meantime, we can all be grateful that thanks largely to the 11th hour success of her Kala single, "Paper Planes" (currently #9 on the Billboard Hot 100) which was featured on the Pineapple Express soundtrack, M.I.A. is in no position to make good on her retirement threats.
As you may already know from the handy posters blanketing construction sites around town, Kala will be re-released next month with six bonus tracks, including a remix of "Boyz" featuring that other formerly "retired" hip-hop star, Jay-Z. But Maya's also working on her insanely-anticipated third LP, and has apparently been recording a couple tracks with long-time collaborators Switch and Diplo. M.I.A. has even put together a version of Tom Waits' "Way Down in the Hole"—the theme song to one of our most beloved television shows of all time, The Wire—though no word yet on when we'll get to hear it. Finally, she's signed former tour-mate Rye Rye (who rocked "Paper Planes" with M.I.A. and Pharrell at the Diesel party this weekend) and has been collaborating on the young Baltimore rapper's debut album.
All of which is to say, M.I.A. has no intention of riding off into some sunset of domestic bliss. Good for her.