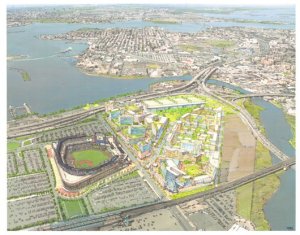 City Comptroller Bill Thompson this morning endorsed construction of planned mega-projects, including Willets Point, as a means to "prime the economy."
As the debate over term limits rages on (Mr. Thompson is opposed to extending term limits and said he plans to mount a mayoral bid regardless), Mr. Thompson turned his attention to the financial crisis at a Crain's breakfast forum this morning. His broad, three-pronged solution for the local economy: tighten budgets, spur economic development and diversify the economy.
In the speech, according to prepared remarks, he took a tangent to endorse the city's plan to redevelop the 61-acre industrial zone of Willets Point in Queens (the Council must vote on the contentious proposal by Nov. 18), though he said that affordable housing and business relocation issues must be addressed.
From his remarks, per the Comptroller's office:
"Today, its proximity to La Guardia Airport and public transportation makes Willets Point a prime location for a larger convention center, a successful model that other cities have developed….Over time, this convention center could replace the Javits Convention Center entirely, freeing up valuable land.
Such an investment would not only create good jobs and give northern Queens a shot in the arm, but it would take advantage of the enduring strength of our tourism industry.
…
But development of Willets Point must place a priority on the proper relocation of the valuable enterprises now operating on the site….Their owners have built solid businesses in a previously neglected area, providing jobs and important services….At a time when we want to keep and grow our small businesses, they must not be cast aside.
We must also endeavor to create low, moderate and middle-income housing there."