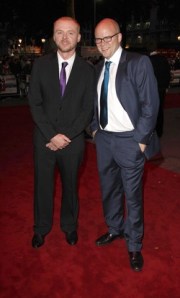 Wednesday evening, Gawker Media hosted a party at Soho House in honor of the soon-to-be-released film version of How To Lose Friends and Alienate People, Toby Young's memoir of his misadventures as a contributing editor at Vanity Fair in the late '90s. Half of the crowd kept referring to the celebration as a book party, despite the fact that the book in question had been released over six years ago. Indeed, the film did seem to take a backseat, as the room was full of media types eager to speak with Mr. Young, who did not arrive until late.
However, our first conversation was with a different type. Tom Arnold had accompanied his old friend from Minneapolis, New York Times columnist and memoirist David Carr, to the party. We asked about the origins of their relationship: "He was friends with comedians and I liked his writing and we both liked cocaine, so we became friends. And we both quit, but we're still friends."
Now that they're both cleaned up, they spend a lot of time eating together, which Mr. Arnold admitted was also bad. Certainly not as bad as the drugs, however. "I know one thing–it would not be good. I'd be dead, and that's something to consider on the bad days. I did find my drug of choice and took it as far as I could take it and luckily I'm standing here. I guess I'm lucky. And [David] is alive, which is a shocker. He was my dealer!"
Mr. Carr told us he was grateful to be attending a party in honor of a memoir that was not his own. "My book is about this guy I'm really sick of talking about," he said. "I just asked to meet Toby because I want to do to him what everyone has done to me. Somebody asked me, 'Are you e-mailing with Augusten Burroughs?' I said, look, we don't have a little group where we're all getting together and kicking it. It would be nice. One day, I'll go to one of those little cult meetings I belong to and it will be nothing but people with memoirs that have at least nicked the list, so we can all be honest."
Earlier, we'd observed Mr. Arnold posing for photos with homegrown celebrity Julia Allison. Was he a fan? "I didn't know she was a real person! The thing—the soap opera thing—the blog, I read it. I guess she's a real person. Or she's a character here? I'm a fan of the story and all the story lines, but I thought they were blogging fictional characters. It turns out she's a human being–but maybe all this here is fictional?"
It was, perhaps, the most insightful thing we'd heard all night.
Later, we spoke with the film's female star, Kirsten Dunst. How had she enjoyed playing a writer?
"Oh, I write all the time. I wrote a short film that was accepted to Sundance and I'm working on a documentary right now. … I've written part of a musical already."
And then, demonstrating the indie sensibility we've come to expect from Ms. Dunst, she asked us whether we'd seen The Devil in Daniel Johnson, a documentary about the troubled musician. We had! "The editor of that film is doing the documentary!" Does she like Mr. Johnson's music? "I love Daniel Johnson."
Finally, as people were starting to lose hope, Mr. Young arrived. Standing on a table as he addressed the crowd, he explained, "I could make an excuse, but the truth is I went out on a piss last night in Dublin and overslept."
Later, we asked Mr. Young to tell us the story of the wild night that had caused him to oversleep. "I did not actually oversleep," he said. So, he'd just lied to a room full of people assembled in his honor? "Yes, I'm lying to all these people. I do that routinely. That's how I make my living. Actually, I was going to have [Mr. Denton] tell people that I was in New York but couldn't get into my own party. I thought that would be a good gossip column item."
And how did he feel the media landscape had changed since he first began stumbling through it?
"I think journalists have had to become more much more entrepreneurial. Clearly a staff position on a newspaper with benefits that's going to last to last a lifetime, that's a pie in the sky. It doesn't exist. So, you have to think about how you're going to forge a career in which you're going to be self-employed for most of the time. You have to be pretty creative and energetic–you have to be quite kind of plucky, to a certain extent. Where I was lucky was, because I kept getting fired from various publications, I was forced to essentially become more entrepreneurial. You know, I turned my failures into a best-selling book and a hit West End play and now a film. If I'd have been continually employed by just one publication, I obviously would never have done those things. And now everyone is finding themselves in sort of a similar boat. Great journalists are getting sacked left and right."
Walking toward the elevator, lead actor Simon Pegg encouraged Mr. Young to follow him to Beatrice Inn for dancing later. "If I use your name, can I get in?" Mr. Young asked, not un-seriously.