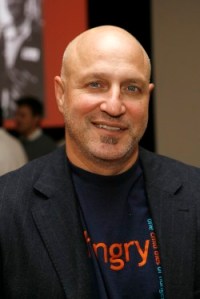 There's certainly anxiety in the air these days about the fate of high-end restaurants in New York City, but at City Harvest's Big Against Hunger on Tuesday, Oct. 21, everyone at the Metropolitan Pavilion had their bravest faces on. Over 50 top restaurants rolled out spreads featuring their signature dishes, including confit of pork, foie gras, and country bread from Benoit; American Kobe beef cheek ravioli and truffle broth from Kobe Club; and Taylor bay scallops and apricot chutney from Oceana.  
"I'm trying to taste as much as I can!" said chef Eric Ripert of Le Bernardin. Mr. Ripert was making his way from table to table, saying hello to fellow chefs like Blue Hill's Dan Barber and occasionally checking back on his restaurant's table, which was serving poached shrimp over cellophane noodles in spiced bamboo broth. "I have tasted some gnocchi from Spigolo over there that are delicious. And the ham from Telepan, also delicious!"
The Daily Transom wondered if Mr. Ripert was feeling shown up by any of his competitors' dishes.
"No, there is no such thing as jealousy here," he replied. "It's all very communal. It's just fun for us to see each other because really we don't have time to interact much outside of work."   
Naturally, the subject soon shifted towards the recession. Mr. Ripert admitted he and his peers have been talking about it. 
"For the moment we are grateful to be in New York because it's still buzzing and people have a social life and they like to go out," he said. "But like I said to my team, if we have a beautiful product and we are serious and dedicated, people will always come. When people go out right now, they don't want to go somewhere where it might be a good experience or it might be a bad experience. They want to go to the safe place. So despite the slowdown I think we'll be just fine."
On the other side of the room, we found Craft owner and Bravo's Top Chef judge Tom Colicchio. Unlike the other chefs in the room, who were dressed in chefs' coats, their names stitched onto the left breast, Mr. Colicchio looked dapper in jeans and a slimming blazer with patched elbows.
Mr. Colicchio was overseeing his table of Wagyu short rib sliders with Benton's bacon and smoked blue cheese. Earlier in the evening, Daily Transom overheard one of the guests saying, "Hey, there is that guy from Top Chef!" But Mr. Colicchio didn't seem to be bothered by the reality TV fame he's garnered in the past few years.
"People who know me know me for what I do," Mr. Colicchio told the Daily Transom. "The only thing that bothers me is that people think I spend half my life on the show, but I spend only about five weeks taping and I work every other day, so it's really only like 20 days out of the year!" 
As for the economic slowdown, Mr. Colicchio said he's seeing the bright side of thing—at least it's happening during the cold months!
"In this market, I find that going out to eat can be very comforting," he said. "So it's a good thing that this is happening in the fall and winter because that's the time of comfort food—braised meats, roasted vegetables and stuff like that."