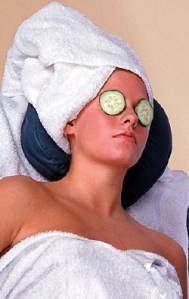 Upon hearing about the opening of Brooklyn Heights's Dimples Kid Spa (via Racked), we wondered just what the pampering of the princesses (and princes?) of New York City entailed. Dimples' owner Daria Dinhorn, who told us business has been steady so far, with the surprisingly well-priced $20 Chocolate Facial and $15 haircuts being the most popular treatments. Next, we asked her who she thought her competition was. Her response? She claimed not to know of any. Good businesswoman, we thought as we hung up the phone and hit Google. 
Maybe our instincts have simply gone haywire, fed as they are on a constant supply of Styles pieces and unhealthy doses of Urban Baby, but are we the only ones surprised by New York's dearth of children's spa treatment options? 
Tribeca's Euphoria Spa, which offers a "My First" series of treatments ($15 massage; $15 facial; $65 foot soak and facial combo), is the only place we could find with a posted kid's menu. Bliss Spa told us that everything besides (full price!) manicures and pedicures was off limits to the under-18 set, though they do offer a $70 Double Chocolate Pedicure for parents willing to go to the trouble of obtaining a fake ID. The Great Jones Spa's policy is similar, and they don't even have any candy-themed treatments.
Our virtual search took us to Los Angeles, home to the kids-only Spa Di Da which, in addition to the $60 Chocolate Kisses Facial, offers Pink Lemonade and Cupcake pedicures, not to mention a series of treatments for young gentlemen. Also, they have face-painting. Meanwhile, the Four Seasons in Beverly Hills prides itself on its "Kid's Only" Ice Cream Pedicure. (Apparently the only thing that sets kids' treatments apart from adults' is the inclusion of dessert.)
Other cities which, like New York, only contain one kids spa include Traverse City, MI.; Kansas City, KA; Williamsburg, VA; Knoxville, TN; Boise, ID and Pike Creek, DE. Humiliating.