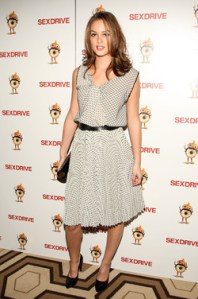 We pondered sub-prime teen sex comedy Sex Drive with the cast of Gossip Girl. 
At a Pratt Institute benefit at Chelsea Piers, the prince of the Palazzo Chupi, Julian Schnabel, told us exactly what he thinks about John McCain.
We waved goodbye to George W. Bush and Cindy McCain at the premiere of W. 
Blythe Danner gave us some useful recession style tips at the launch for Key to the Cure (plus: Ronsons, Real Housewives, and Lindsay Lohan). 
Maxim editor Chris Wilson explained how he got dumped by Oprah.
The sexual assault lawsuit filed against Jeffrey Epstein was dismissed.