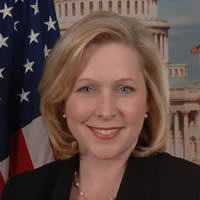 Albany-area Republican Congressional challenger Sandy Treadwell just launched a new Web site focusing on Democratic Representative Kirstin Gillibrand's work years ago on behalf of tobacco company Philip Morris.
GillibrandUnfiltered.com lists unflattering news account of cigarette-makers denying any knowledge that their product is linked to cancer.
The most tantalizing part of the Web site is the section where documents are posted. It includes e-mails and faxes linking Gillibrand (who was using her maiden name at the time, Rutnik) to what the Web site describes as clandestine meetings about the dangers of smoking.
Gillibrand is a "Blue Dog" Democrat who won her seat in an area that traditionally votes Republican. She was one of very few New York legislators to get an "A" rating from the N.R.A. last week.
The risk here for Treadwell is that in a time of national economic crisis, the negative message overwhelms the attack on Gillibrand and turns voters against him.