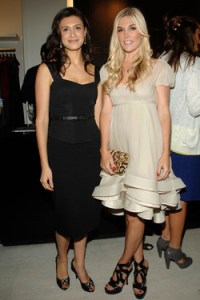 Society girl and Gilding Lily author Tatiana Boncompagni is experiencing some family drama. According to Cityfile and Bloomberg.com, Ms. Boncompagni is taking her sister Natasha to court over a dispute concerning Tatiana's upcoming novel, Hedge Fund Wives. It seems that Natasha, who "provided input" on the project, also surreptitiously copied portions of the book during visits with Tatiana with the intention of later claiming co-authorship, which she apparently did during an October 1 phone call. A "shocked" Tatiana, who turned her manuscript in on September 19, has responded by suing for copyright infringement and the right to be named the undisputed sole author of the project (not to mention some monetary damages).
Back in September, the Transom chatted with Tatiana about the release of Gilding Lily, a semi-autobiographical chronicle of the rise and fall of a Manhattan It Girl. Ms. Boncompagni, who moved to the city to work as a journalist before marrying vacuum cleaner heir Maxmilian Hoover, compared the Manhattan scene to the social life in her hometown of Nashville: "New York is a totally different animal than, say, Nashville society—it never becomes as vicious as it does here…These girls are very ambitious. They want to be famous and they want all the power that goes along with being famous."
Tatiana did not return a phone call seeking comment.