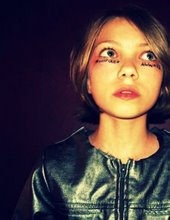 Via BlackBook, we were reminded of the existence of 12-year-old Tavi, maintainer of occasionally hyped style blog Style Rookie. Despite our better instincts, we find the precocious Twiggy lookalike rather charming (though we find ourselves worrying about her habit of posting post-midnight!), and we're not alone.
And now we've grown to love her even more. Rather than complacently accept her position as the undisputed princess of underage sartorial scribes, Tavi has begun lobbying for her sisters in arms. In a post this morning, she pays tribute to a long list of her worthy competitors, humbly explaining:
"While I don't deserve the publications I've been lucky enough to receive, younger bloggers both individually and as a group certainly do! Not only for the amazing outfits, photography, and writing that comes from many of these blogs, but the confidence it takes to wear something unusual to school and post your outfits on the internet for the world to see and critique. People are bound to be snide and rude, but the will to go through that just because you want to express yourself really is a passion for style…I'm not recommending all of these blogs above because the writers aren't old enough to vote, I'm recommending them because they're wonderful blogs written by people truly devoted to fashion."
The girl has a point. We were going to attempt a snarky critique of the aforementioned blogroll, but after a quick read-through, we have to say that we admire the pluck and creativity of these young ladies. Like most amateur fashion blogs, these sites are equal parts photos from Style.com, online catalogues, magazine scans, and personal commentary. And then, of course, there are the digital self-portraits of the authors modeling their own concoctions—mashups of finds from Goodwill, the mall, Target, mom's (and dad's) closet, and hotly anticipated birthday presents (the precise alchemy is dependent on the particular blogger).
Sixteen-year-old Fashion Robot also includes found photos from her French text book alongside swim meet recaps. The 17-year-old at Intellectuals Read Vogue Too proudly shows off some dubiously "Roberto Cavalli style" hand-me-downs from her Italian teacher alongside a Costco cardigan and a sailing hat leftover from her father's days in the Navy. Cheetos are Orange advocates treating silver lame American Apparel leggings with bleach and pairs shredded jeans with Doc Marten's a la the year she was born, and it all actually looks pretty good! 
Of course, there's always the fear that these sites, which largely consist of adolescent girls striking the "high fashion poses" we recognize from America's Next Top Model could attract the, uh, wrong kind of attention, but in this crazy post-Myspace age, we figure there's not much we can add to that debate. And at least these girls are using the Internet creatively, instead of as just another battleground for the Abercrombie-clad Mean Girls antics we occupied ourselves with in middle school (though maybe we're giving them too much credit—we have not, in fact, checked their Myspace pages).
"Kids don't have dress guidelines and can get away with wearing almost anything we want, no matter how tacky it is, more easily than someone who has a job to go to can," Tavi admits toward the end of her post. We would add that their ability to pull off mixed florals and, in the case of 15-year-old Fashion Pirates, a wrap-skirt made out of a tablecloth might also owe something to their present lack of hips. But they'll find out about that soon enough.