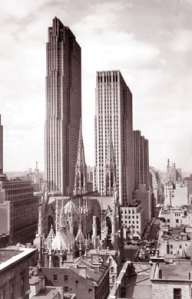 On Architecture: Collected
Reflections on a Century
of Chang
By Ada Louise Huxtable
Walker & Co., 496 pages, $35
The question of the day is about public taste, and whether there can any longer be such a thing. When I asked a few of my friends who are young architects what they thought of Ada Louise Huxtable, venerable critic most recently for The Wall Street Journal and for whom The New York Times invented the job of newspaper architecture critic, the response ranged from blank to neutral. One told me her parents had mailed to her clippings of Ms. Huxtable's Journal pieces when she was studying at the Harvard Graduate School of Design, the way parents do when trying earnestly to relate to kids launched far into the realms of professional sophistication. "It's cute when they do that," she said.
Older architects certainly know Ms. Huxtable, and not just because they used to read newspapers. She began her career in the 1950s at Philip Johnson's side as he helped found the Museum of Modern Art's department of architecture and design. That early experience says it all about Mr. Huxtable's eye for buildings: She's been an avid explainer of architecture's avant-garde, ushering each new trend (usefully embodied by gods like Louis Kahn and stars like Rem Koolhaas) safely into public understanding, all the while keeping a reporter's eye on the real estate developers, whose ascendancy Ms. Huxtable, in her new collection of architectural journalism selected from a career spanning 40 years, describes with almost eerie equanimity:
"If the modern skyscraper has resolved any of architecture's intrinsic ambiguities, it has done so in a thoroughly unexpected and unsettling way. Today's big building is a masterpiece of economic manipulation, a monument to the marketplace and entrepreneurial skills. These are skills that command the kind of reverence and awe reserved for theological, moral, and aesthetic issues in earlier societies."
On Architecture contains any number of similar remarks—expressions of disdain for the corruption of humane artistic values by the forces of profit, in a style compressed by the rush of daily journalism into simple statements of value and truth. No manifestos nor shrillness nor, most importantly for the critic, any hint of dogma. As she puts it in the book's introduction, her authority derives simply from having been there—as a chronicler of the 20th century's revolution in architecture, Ms. Huxtable never had the luxury of deciding whether a building or style or architect was worth thinking about. She processed it all, in real time, and the result is prose as self-assured as it is unadorned with the peacock feathers of architectural theory. "Deconstruction, building as 'text' or 'narrative,' contextualism, chaos theory, all have had their day and devotees," she wrote in a 1995 New York Review of Books essay. "A few notable examples of work driven by theory become transient landmarks or textbook illustrations; the rest make it to the New York Times style pages, where styles go to die."
If there's one piece in this collection that distills Ms. Huxtable's sensibility, it's "The Way It Never Was," her assault on the prefab mallification of America's public spaces. South Street Seaport in New York, Faneuil Hall Marketplace in Boston, Disneyland and Colonial Williamsburg—all create theme-park versions of history divorced from any honest relationship with the past. Ms. Huxtable writes
"They deny imperfections, alterations and accommodations; they wipe out all the incidents of life and change. The worn stone, the chafed corner, the threshold low and uneven from many feet, the marks on walls and windows that carry the presence and message of remembered eyes and hands. … There is nothing left of the journey from there to here, nothing that palpably joins the past to the present, that makes direct physical and emotional contact with the viewer, the bittersweet link with those who have been there before."
Like any good critic, Ms. Huxtable guards that bittersweet link with tenacity and eloquence, and it's a principle that has filtered down to her successors at The New York Times. When Nicolai Ouroussoff recently complimented the New York Public Library for its choice of British architect Norman Foster to design its new, underground circulating library, it was pure Huxtable: "The project's potential," he wrote, "lies in the delicious tension that could be created between old and new."
In fact, Ada Louise Huxtable's standard of judgment is available to everyone, regardless of their expertise in the history and theory of architecture. It's everywhere implicit in her decades of criticism: She urges us to ask the building if it's telling the truth.
Damian Da Costa is on the staff of The Observer. He can be reached at ddacosta@observer.com.