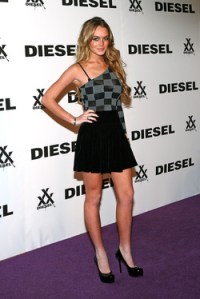 On Saturday, Oct. 11, Lindsay Lohan arrived at the Diesel xXx Rock & Roll Circus party at Pier 3 in Brooklyn. As celebrities like Taylor Momsen, Emma Watson, Mark Ronson, Chace Crawford, and Peaches Geldolf made their way down the red carpet, Ms. Lohan managed to stand out. 
Dressed in a pleated mini skirt, asymmetrical checkered top, motorcycle jacket and hooker heels, something seemed off about Ms. Lohan's seemingly exposed legs–as in, her feet did not match them in color. Ms. Lohan was suffering from a severe case of a farmer's tan, which we presume was caused by pairing skirts or shorts with ankle-high shoes. The result is a tan that made it look as if she was wearing copper-toned leggings. (We would've advised the actress to rub some self-tanner on her feet on the car ride over.) 
Coincidentally, Ms. Lohan will spend today promoting her new leggings line, 6126, at Henri Bendel in New York. Ms. Lohan named the line after Marilyn Monroe's birthdate (6/1/26); recall that earlier this year, Ms. Lohan replicated Monroe's famous 1962 photo shoot with Bert Stern for New York magazine. 
"I love to wear leggings, so it should come as no surprise that my first venture into the world of fashion design is with leggings!" Ms. Lohan wrote on her blog today. "I named the collection after Marilyn Monroe's birth date, because to me she represents timeless, confident glam ­and that is the voice of this brand." 
Something tells us Monroe might not feel similarly.
[via Just Jared]