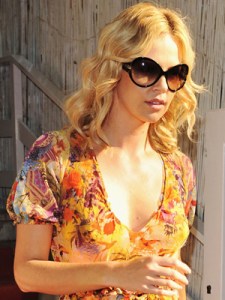 Fancy watch hoarder Charlize Theron will have to pay luxury watchmaker Raymond Weil for violating a $3 million endorsement deal with the designer by wearing a Dior watch in public, a Manhattan judge has ruled, according to the New York Post.
Last week, Daily Transom stumbled on the court documents on The Smoking Gun that indicated this wasn't the first time the actress has used her popularity in the press to expand her jewelry collection.
From the court filings:
She also was paid $200,000 by Chopard to wear its jewels to the 2006 Oscars and received another $50,000 from the Swiss firm for wearing its gems to that year's BAFTA awards in London. While Theron wore Cartier diamond stud earrings and a 'flower cuff bracelet' to the 2006 Golden Globe Awards, she was not paid by the firm. However, as Judge Colleen McMahon notes, Theron had previously received a $35,000 ring, $8000 earrings, and a $7500 bracelet as tokens of appreciation' from the luxury retailer.
Now, the Post reports, Judge McMahon has ruled against the actress and her production company, Denver & Delilah Films Inc., which were listed as the defendants, insisting that Ms. Theron's initials appeared on every page of the contract that was violated. ("It is obvious that Theron cannot be dismissed . . . she was not an unwary agent," wrote the judge.)
Raymond Weil is seeking $20 million from Ms. Theron.