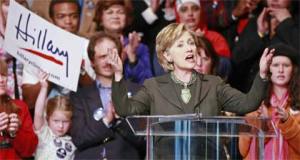 David Paterson's right-hand man was not fired; Charles O'Byrne resigned after he and the governor reached a mutual decision.
Paterson basically has to start all over again without O'Byrne.
Was City Councilwoman Darlene Mealy threatened into voting in favor of the term-limits legislation?
The New York Times endorses City Councilman Michael McMahon, writing "If there were a prize for the most bizarre federal race this year, it would go to the campaign in Staten Island to replace Representative Vito Fossella."
City comptroller candidates will have to make a tough decision in January, writes David Seifman.
Frank Lombardi thinks Christine Quinn is the biggest winner of the term-limits extension.
Henry Stern thinks any victory may be Pyrrhic.
A health department employee was quietly rounding up Bloomberg supporters at the term-limits hearings last week.
Democrat Rick Dollinger is running against Republican (and former Democrat) State Senator Joe Robach with an anti-government spending message.
The race is a "real battle," according to Robert Harding.
Western New York Democratic congressional candidates are far out-raising Republican rivals.
Assembly Republicans are keeping only modest goals for this election.
An internal G.O.P. document reportedly writes off Representative Randy Kuhl, predicting victory for Eric Massa.
Representative John Hall is thrilled to get his signature veteran's bill passed, but also admits that being in Congress is harder than being in 70s rock band Orleans.
The Times Herald-Record looks at the issues surrounding a proposed controversial powerline that would run from Utica all the way downstate.
Doubt has been cast on "every aspect" of Atlantic Yards, according to Newsday.
Marty Markowitz gives candy to babies.
National poll averages show Barack Obama up eight points over John McCain.
Michael Bloomberg penned a faux memo to the presidential candidates for this week's Newsweek. At over 2,500 words, it ends with, "Good luck. And if I can be of any help, just call."
Self-described "con-con" Ken Adelman explains his vote for Obama is about learning to "value competence along with ideology."
The Obama campaign denies that they already have a draft of an inaugural address.
The Anchorage Daily News endorsed Obama, citing McCain's handling of the economic crisis and Sarah Palin's inexperience.
The McCain campaign is now saying a third of Palin's expensive R.N.C-funded wardrobe has been returned; she has sworn she won't wear any of it anymore. 
Joe Biden released an ad for his Senate re-election campaign, just in case.
Greg Sargent finds a McCain staffer telling reporters about the hoax-mugging of a volunteer
Frank Lautenberg's Republican challenger cites the death of New Jersey media as a reason it's now particularly hard to mount a serious challenge against a well-funded incumbent.
Rudy Giuliani bravely defends Joe the Plumber.
Palin, increasingly, is going commando out on the stump.
Andrew Sullivan wonders why she's in Iowa this weekend, if not get ready for 2012.
The Times report this about the religious practice of leaders associated with Palin: "Its adherents believe that demonic forces can colonize specific geographic areas and individuals, and that 'spiritual warriors' must 'battle' them to assert God's control, using prayer and evangelism."
Buffalo Pundit discovers that hoax-maker Ashley Todd did work for upstate congressional candidate Chris Lee last month–and vlogged about it!