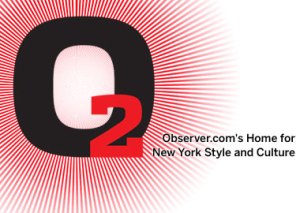 Dear Reader,
Welcome to O2 on the Web!
Readers of The New York Observer in print already know the section as the newspaper's special section for features, columns and reviews about New York life: society, culture, film, music, dance, theater, books, fashion, food and drink and more.
Now, we've breaking it out into its own homepage on the Web, so you can find all that good stuff put together in one place.
Is this what you're looking for when you come to observer.com? Then be sure to bookmark www.observer.com/o2 and come back every day for constant updates on New York style and culture.
Were you a regular reader of The Daily Transom and now can't find the old 'style' channel where the column used to live? Bookmark www.observer.com/thedailytransom, and look at the top of any page on the site to find access to it.
Looking for The Culture Czar? Bookmark www.observer.com/thecultureczar, or look for The Observer File on the homepage for a widget that will always take you there.
Fopr a sampling of both and a lot more besides, though, just come to O2, where the best of that stuff is digested continuously in the O2 Daily column in the center of the page. And keep an eye on this page, which in the coming months will be the site of many of the innovations we've been working on behind the scenes to make our site the engaging, urgent, witty, urbane place New York City needs it to be.
Take a look around, have a good time, and let us know what you think in the comments section.