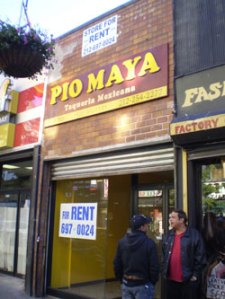 Spritely St. Louis co-ed Christine Mueller, along with her parents and some friends from New Jersey, stopped under the flapping "Is-Wine" sign at 24 West Eighth Street late Sunday afternoon, briefly peeked inside the window, then turned away in disappointment.
"Oh, it's only retail," noted her father, Mike Mueller.
A few nights earlier, the party of five had toasted the young Ms. Mueller's 21st birthday over head-spinning Manhattans atop the revolving roof of the New York Marriott Marquis. Later, they took a culinary tour of Greenwich Village, making stops at all the famous Bleecker Street spots—Murray's Cheese Shop, Rocco's Pastry Shop, and, around the corner, Joe's Pizza.
What sorts of tasty adventures awaited the tourist quintet on historic West Eighth Street?
Few and far between, it turned out.
"All we are looking for is a place to chill outside and have a few drinks," the barely legal Ms. Mueller said.
They were looking in the wrong place.
By now, there should be plenty of sidewalk cafes, coffee shops and other eating and drinking spots along the once vibrant shopping strip. (And lots of synergistic commercial foot-traffic as a result.) But despite years of promises of a sweeping streetscape renaissance fueled by a resurgent food and beverage industry, the beleaguered former West Eighth "shoe district" remains a virtual dead zone for retailers and restaurateurs alike.
In addition to all the vacant shoe stores—as many as 24 of them, at one point—the street is further lined with the steel-shuttered corpses of failed culinary ventures.
Take Pio Maya, former Babbo cook Hugo Zumba's 1,500-square-foot Mexican taqueria at 40 West Eighth. Two years ago, Mr. Zumba snagged a sweet deal, a below-asking-price $7,000 monthly rent, on the space in the hopes of attracting spillover crowds from more established foodie corridors nearby.
In a 2006 interview with The New York Times, Mr. Zumba stressed his belief in the block's ability to rebound. "It will take a little time, but it will turn over," he said.
Albeit not soon enough.
This past summer, Mr. Zumba abruptly pulled the plug on Pio Maya—and, allegedly, a few of his landlord's own appliances—and took off; his intended taco gold mine is now literally just a shell.
"He even took the freezer!" charged one neighboring shopkeeper who noticed The Observer peering inside the abandoned storefront on Sunday afternoon. "It wasn't even his!"
Fast-food chain Chicken Bar & Pizza, which had opened a location right beside Pio Maya, has also unfurled its wings and migrated.
The supposed customer spillover simply never materialized.
Passing out fliers for an adjacent, long-standing leather goods outlet at 42 West Eighth Street, 27-year-old David Melendez couldn't help but laugh as a bored-looking, apron-clad cook from the nearby Sanmaroo Korean Restaurant casually strolled down the sidewalk in front of him. This, mere minutes away from the 5 p.m. dining hour.
"That's how dead it is," Mr. Melendez said. 
Raj Chani, proprietor of the Aliyan clothing boutique at 51 West Eighth, can remember a time when the sidewalks were overrun with shoppers in search of shoes and all sorts of things.
"Sunday, you could not walk here, it was so busy," said Mr. Chani, who, over nearly 30 years, has operated out of four separate storefronts, all along West Eighth. "This block was number one in the country. Now look! Empty. … Nighttime, you won't even see a dog here!"
Lacking sufficient revenues to make his monthly $10,000 rent—he used to pay only $1,500 for a similarly sized retail space down the block—Mr. Chani plans to close the store in December. Until then, "everything $10!" he said.
For the first time in three decades, Mr. Chani is looking to reopen elsewhere, possibly even in pricey Soho! "The rent is not good, but you make business there," he said. "Here you pay rent but make nothing."
His forthcoming defection came as devastating news to 15-year-old Cathy, one of only a few customers to browse Mr. Chani's boutique on Sunday afternoon: "I love this store!" (She declined to give her last name, citing motherly advice.)
To her, the idea that adding more restaurants might help to revitalize the downtrodden block just seems silly. "Nobody comes to Eighth Street to eat," she said. "That's what Bleecker is for."
YET THERE ARE many others who still believe in the magical healing powers of food and drink for all that ails West Eighth.