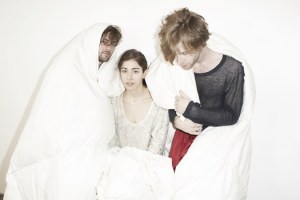 What is the point of the CMJ music festival?
Ostensibly, the dizzying roster of live shows in venues all over New York City, and the magazine behind it (College Media Journal, once College Music Journal) exist to provide new music to college radio programmers and, increasingly, to online outlets. There was a time when college radio was kicky and vital and reached a lot of young music consumers, and when CMJ (the magazine) was well-written, and sent out totally great quarterly CD's. That time is long past.
Past, too, is the time when the CMJ festival presented endless exciting options to scads of intrepid fans and industry folks. The endlessness is still there.
Times pop critic Jon Pareles, in his piece on the festival last week, suggests the fest is now held largely for the benefit of bloggers. It's a tempting hypothesis. The name change to "media," the youth-music market share that blogs do control, the constitutional snobbery.
Plus, the bulk of people "covering" the festival, supporting it, and actually learning about new music from it do seem to be bloggers. Who else would photograph (from many angles!) an unsigned Dutch band playing doomy synth-punk to about five people and hopping around like they're at a National Front rally on a Wednesday at 7?
Blogs are the perfect audience for CMJ's endlessness. Free of having to have opinions or make arguments, music blogs are mainly the province of boosterism, and with so many groups in town, every site can have its pick of obscure Next Big Things. Except it doesn't work that way, for the bloggers or really anyone else in attendance. Today's CMJ fest consists of a dozen or so buzzed about shows each night, and several dozen more shows that are ill-attended, feature wobbly lineups, and appear to benefit no one at all.
Lonesome, Siberian venues like Kenny's Castaways, Googie's Lounge, and Banjo Jim's host band after unknown band all week, day and night, and because of the overwhelming array presented by the festival, these showcases fall through the cracks. The bands at them are largely mediocre-to-terrible, but it's not their fault that the CMJ festival has become this self-perpetuating, baggy monster.
Simply put, the sea of unknown bands is more than daunting, it's paralyzing, and in the bargain nobody's learning anything they didn't know before. Where is the selection? The authority?
Wednesday night at Pianos the scene was electric, the room packed to see Chairlift, a band that plays shows like every week in New York and has a song in a freaking iPod commercial. This is not my beautiful marginality. By contrast there were precious few people filtering in and out of the Cake Shop midway through the following night, despite some good bands on a series of bills, not to mention watching an electric violinist backed up by an Oi! rhythm section. People crowd in and pack the hippest spots like the Levis/Fader Fort at Delancey and Bowery, but who treks out to Pete's Candy Store in Williamsburg?
The point is, again, what's the point? If CMJ is about presenting new music they should democratize the distribution of bands, forcing people to take in stuff they know they want to see right alongside stuff they didn't know they wanted to see (or maybe stuff they'll be sorry they saw, but that's part of the fun too). Alternately, the festival should be dialed back by a lot, centralized, and made into an experience that means more than accruing cred points for catching the already-big-thing for the seventh time in a week.
On Tuesday, at Union Pool in Brooklyn, the showcase featured a dreadful, messy Jonathan Richman-inspired two-piece, followed by a most unpretentious group melding sunshiney hippie enthusiasm (sample lyric: "I can hear the grass grow!") with epic post-rock breakdowns (strangely, it worked), and rounded out by Army Navy, a band with some buzz going that did their Buzzcocks/DBs/Replacements thing with aplomb, especially the stunning cover of "Back Where We Started From" by Maxine Nightingale.
Point is, you don't get to hear such variety very often, and if it weren't for Army Navy, I would never have seen Big Tree (the post-rock hippies) or, yes, suffered through the opener. Sadly, barely anyone was there for the tragedy or the triumph, and there's no point in that.