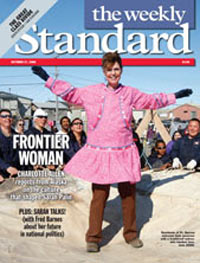 In his New York Times column today, William Kristol quotes The Wall Street Journal's Peggy Noonan saying of the Republican vice presidential nominee Sarah Palin, "In the end the Palin candidacy is a symptom and expression of a new vulgarization in American politics."
Ms. Noonan, of course, knows from vulgarity when it comes to Governor Palin, but Mr. Kristol dismisses his sister-in-arms with the following: "Leave aside Noonan's negative judgment on Sarah Palin's candidacy, a judgment I don't share."
To say Mr. Kristol, who was once famously dubbed Dan Quayle's "brain", doesn't share criticism of Governor Palin is an understatement. If anything, Mr. Kristol is Governor Palin's number one fan, using his Times column, his magazine, The Weekly Standard, and his various appearances on TV and in other people's articles (including his colleague Maureen Dowd's October 14th column in which he compared the governor to Andrew Jackson) to cheer for his favorite candidate for the second most important job in the world.
But how did Mr. Kristol's fascination with Governor Palin begin? This week in The New Yorker, Jane Mayer explains all.
Apparently during a Weekly Standard-sponsored cruise to Alaska in 2007, Mr. Kristol, his executive editor Fred Barnes, their families, and others attended a luncheon at Governor Palin's in Juneau:
By all accounts, the luncheon was a high-spirited, informal occasion…The menu featured halibut cheeks—the choicest part of the fish. Before the meal, Palin delivered a lengthy grace. [Alaska Federation of Republican Women leader Paulette] Simpson, who was at the luncheon, said, 'I told a girlfriend afterwards, "That was some grace!" It really set the tone.' Joe Balash, Palin's assistant, who was also present, said, 'There are not many politicians who will say grace with the conviction of faith she has. It's a daily part of her life.'
Later the group went for a helicopter ride (but did not shoot any wolves) and touched down among mineworkers who greeted them warmly.
It's enough to make a pundit swoon. No wonder Ms. Mayer quotes Mr. Kristol as calling Governor Palin "my heartthrob" on Fox News.