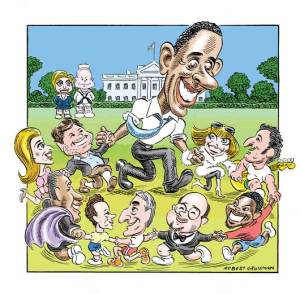 BY JASON HOROWITZ
Barack Obama promised change. And New York's elite Democratic policy experts and political donors, at least, are going to get it.
"I don't think it's going to be a heavy New York administration like the last time," said one prominent New York donor, referring to the prospect of an Obama presidency. "It's a new world."
To an extent, the fortunes of New York's would-be appointees to prestigious federal positions rose and, eventually, sunk with the candidacy of Hillary Clinton, with attention and influence shifting to power players in Washington, D.C., and Chicago.
But New York won't be shut out entirely. Because of the city's status (even if somewhat diminished) as the country's financial capital, its hedge funds and banks will provide a number of names for top economic jobs in an Obama administration.
BY OBSERVER STAFF
In mid-October, about three weeks to go before election night, Barack Obama found himself in the classy old Metropolitan Club on 66th Street with a group of his top New York fund-raisers.
He told them there was "extraordinary expertise" in the room. "Who knows?" he said. "There might be some of you who decide that you want to spend a little time in government."
Perhaps. But there's something better: The New Yorkers who had the prescience and stamina to support Mr. Obama when Hillary Clinton was the dominant Democrat now carry Barack Platinum Cards; if he wins on Nov. 4, their credit limit will be high. Their advice will be absorbed, their appointments considered, their dreams drafted. And the ones who can see themselves in the cabinet will be taken seriously.
The old F.O.B.'s were Friends of Bill; the new F.O.B.'s are Friendsters of Barack, maybe not that close, but they got in before the going was good. And if there's one thing we have learned about Team Obama, it's this: They remember who was there.

>>READ MORE