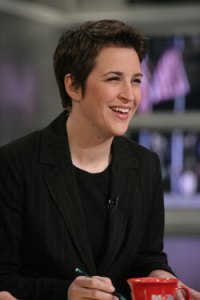 In the forthcoming issue of the New York Times Magazine, writer Edward Lewine and photographer Ben Stechschulte check out MSNBC anchor Rachel Maddow's "Domain" in western Massachusetts to document her life in an 1865 country house, where she lives with her long-time girlfriend, Susan, and their Labrador retriever.
The resulting feature is rich with fun details about Ms. Maddow's life and obsessions. She really likes mustard. She drives a red pick-up truck. She worries about loose nukes. She makes old-timey cocktails. She keeps a stack of comic books by her bed. Etc.
There's also one good tidbit about Ms. Maddow's media career. When asked about her favorite Fox News put-down, here's what Ms. Maddow had to say:
I don't talk much about Fox. That's more Keith Olbermann, but the only time Fox tried to book me on a show—ever—was for me to comment on Madonna and Britney Spears having kissed at an awards ceremony. I declined.