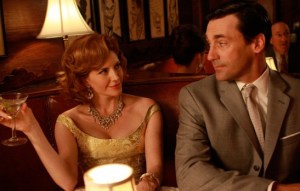 Could Sterling-Cooper actually function without its boss? No, we aren't talking about Don Draper, who's presumably still wandering around the hills of California looking to meet with whatever mysterious person knew him as Dick Whitman… we're talking about Matthew Weiner. While Mad Men has been picked up by AMC for a third season, the show's mastermind and Lionsgate, the studio that produces Mad Men, have yet to agree to a deal. Uh-oh.
Naturally, Mr. Weiner is trying to get a sum of money commensurate with Mad Men's incredible buzz and seemingly non-stop plaudits. Even before an Emmy win for Best Drama, Mr. Weiner started shopping his baby around town, presumably in the hope of playing a few studios against Lionsgate to get the biggest deal possible. But now that Mad Men is locked into AMC for another season, it seems almost irrational to think that Mr. Weiner won't eventually agree to terms. We can't imagine any scenario that would allow a man reportedly as meticulous and precise as Mr. Weiner to walk away from a show he's been shepherding for the better part of a decade. But that doesn't mean he doesn't have firm negotiating ground to stand on. There's the little matter of Mr. Weiner having his name on the script of nearly every single Mad Men episode. It'll be next to impossible for the show to maintain its excellence without Mr. Weiner's guiding hand. If he walks, Lionsgate would in essence be left with a Maserati with no wheels.
Of course this could all be a cynical ploy to get Mad Men in the news just before its final two episodes of the season. Perhaps once the finale airs on October 26th, Lionsgate and Mr. Weiner will joyously announce an agreement that keeps him with the show for another two years. We certainly think that would be a maneuver Don Draper would approve of.