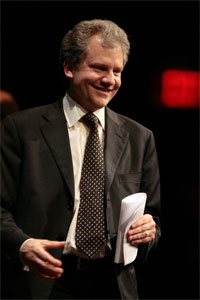 Will The New York Times ever reward writers for generating page views, à la Gawker?
Arthur Sulzberger, Jr. fielded that question at the WebbyConnect conference. His answer? No and yes.
First, he scoffed at the idea since, he argued, Frank Bruni shouldn't be valued any more than Adam Liptak:
At About.com, page views and unique users are part of the compensation for our guides. Not the whole compensation but it's part of it. At The Times that's not going to be the case, because quite frankly a Supreme Court reporter isn't worse than a restaurant reviewer. And a restaurant reviewer is going to get more page views. More unique users. That's just the way it is in the world. And we don't want to set our journalists in that mode.
However, someone like Andrew Ross Sorkin? Yeah, he deserves a bit more, according to Mr. Sulzberger:
Having said that, are we finding ways of compensating those journalists who are helping us build verticals, and deep verticals, in different ways? Something tied not to any single measure—for example not to advertising dollars, we don't want to do that—but say to the kinds of measures of usage that we're talking about, about engagement. Sure we are looking at how to do that in such things as DealBook. And that may be something that comes from that, but that's really about creating a site, not just being a writer.
And there are writers who got the special honor of being singled out in his speech for a job well done in generating traffic:
More recently Tara Parker-Pope's health blog posts about anorexia and eating disorders received an avalanche of visits and comments. Her articles about health and food have been propelled around the web by our most emailed list, as have the columns of many of our op-ed page writers, columnists, and lead stories about the economy and the presidential campaign.
Other Times staffers mentioned in his speech, for varying reasons:
Paul Krugman (for his Nobel)
Gretchen Morgenson (financial crisis)
Alex Wright (quoted him)
Brian Stelter (quoted him)
Tom Friedman (TimesSelect)
Maureen Dowd (TimesSelect)
Frank Rich (TimesSelect)
Andrew Rosenthal (anthrax scare)