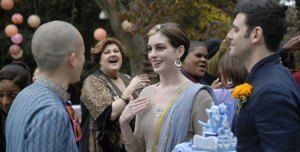 Rachel Getting Married
Running time 113 minutes
Written by Jenny Lumet
Directed by Jonathan Demme
Starring Anne Hathaway, Debra Winger, Bill Irwin
Jonathan Demme's Rachel Getting Married, from a screenplay by Jenny Lumet, is said to have been inspired by Robert Altman's satirically free-wheeling A Wedding (1978), and probably by Ms. Lumet's own experiences in an interracial family. As far as I'm concerned, weddings in movies tend to be guilty until proven innocent or even intelligent. Ever since the old Production Code was scrapped to allow last-minute mischief at the altar, as in Mike Nichols' The Graduate (1967) and P. J. Hogan's My Best Friend's Wedding (1997), it has been open season on brides and grooms and best men and maids of honor.
There is little lasting mischief afoot in Rachel Getting Married, and almost no clashes of elective affinities. The only complication is Rachel's self-dramatizing sister, Anne Hathaway's Kym, let out of rehab briefly to attend the wedding. What backstory there is tells us that Kym, while she was a drug-addicted alcoholic, drove her car into a river, and caused her baby brother, strapped in his car seat, to be drowned. She has never gotten over it, but who to blame? Her mother, Abby (the ever delectable Debra Winger), for letting Kym take care of her baby brother in her unreliable condition. Kym and Abby have a mini-confrontation over the issue, but Abby calmly insists that Kym was always very good with her baby brother.
We never learn exactly why Abby is now divorced from her former spouse, Bill Irwin's Paul, who is now married to African-American Anna Deavere Smith's Carol, who has remarkably little to do in the narrative. For that matter, Rosemary DeWitt's Rachel is happily marrying African-American Tunde Adebimpe's Sidney, and little fuss or tension is provoked by this interracial union.
If there is one performer who stands out in this amiably disjointed production, it is the magical Ms. Winger, whose imperturbably detached demeanor slams the lid on all the incipient hysteria arising from the lifelong feud of two sisters, Rachel and Kym, over the love and attention given to the other by their parents—never enough for Rachel, and too much for Kym.
Mr. Demme has cast his wedding party, 60 or more strong, and its musicians with family and industry friends, and apparently instructed them to cut loose with a sustained burst of benevolent good cheer. Mr. Demme has a big heart and a clear-headed commitment to humanitarian causes, expressed throughout his career with both fictional and nonfictional productions, many concerned with the popular music of his time, as well as the sufferings of people around the world.
Hence, I feel a little guilty in wishing that he had sprinkled a little more emotional dissonance into a narrative caught up in a swirl of love and tolerance and multiracial and multicultural musical frenzy. One wishes we loved each other as much as Mr. Demme loves all his friends and collaborators. Unfortunately, we don't, as the daily headlines and television bulletins tell us every hour of the day. I hope nonetheless that Rachel Getting Married is enough of a hit to sustain his career of cinematic good works. And I hope also that Ms. Winger gets a long overdue Oscar for best supporting actress, as she is that without a doubt.
asarris@observer.com