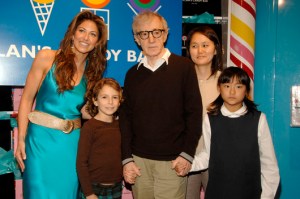 At Monday night's relaunch of Dylan Lauren's uptown candy store Dylan's Candy Bar, director Woody Allen arrived with his wife, Soon-Yi Previn, and their two adopted daughters, Bechet and Manzie. He posed for photos with the whole family and Ms. Lauren. And judging from his faint half-smile, he looked as though he almost didn't mind. 
Mr. Allen rarely makes public appearance at New York society events unless they have to do with the release of one of his new films featuring Scarlett Johansson. Even more rarely does he bring his wife along with him to walk the red carpet. And browsing all the way back to 2004 on Patrick Mcmullan's website, we could not find a photo of the whole family together… like, ever.
Well, they did just redecorate their Upper East Side home, so why go out when you lounge around in carefully-chosen rustic antiques. But good to know this is what they look like these days. Everyone looks happy and healthy, and the girls are getting so big!
Perhaps Andrew Lauren was right when he told us that in hard economic times, good candy is "a great pick-me-up." Mr. Allen and the family probably just couldn't resist the promise of a marshmallow dipping station and some bikini-and-body-paint-clad candy necklaces, whatever those are.