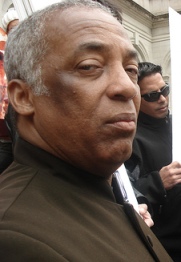 David Yassky spoke about his amendment to put the issue of extending term limits before the voters by creating a charter revision commission to put the issue on the ballot as early as February.
Yassky said changing term limits legislatively could "squander" public support heading into a fiscal crisis when city government will need public approval to make very difficult decisions.
Referring to the two voter referendums in the 1990s that created and upheld term limits, Yassky said, "For us to reject those vote and those voters, without question, make new Yorkers more cynical about government and politics."
Charles Barron is speaking, and said Hugo Chavez abided by a public referendum and said, "Mayor Bloomberg, be like Hugo, and let the people decide."