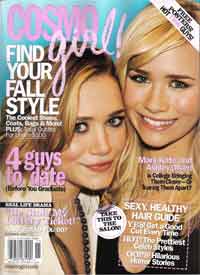 Portfoilio's Mixed Media blogger Jeff Bercovici reports that Hearst's CosmoGirl has folded.
A statement from Hearst (quoted by Mr. Bercovici) reads:
Hearst Magazines has made a strategic decision to consolidate its teen publishing activities into Seventeen, the largest-selling monthly teen magazine on newsstands. Effective with the December issue, CosmoGirl will cease as a print magazine, remaining online only at cosmogirl.com. CosmoGirl's subscriber base will be folded into Seventeen.
We are proud of our leadership in the teen category and remain committed to this audience. We will continue to publish Seventeen and its annual Seventeen PROM issue as well as focus on the Hearst Teen Network of websites, which includes Cosmogirl.com, Seventeen.com, Teenmag.com, eSpin.com, MyPromStyle.com, and MisQuinceMag.com. Hearst's Teen Network of sites ranks in the top 10 trafficked entertainment sites on the Web, according to Comscore.
CosmoGirl's Editor-in-Chief Susan Schulz will be staying on at Hearst to work on special projects. Publisher Vicki Wellington will become publisher of Food Network Magazine, which officially rolls out in 2009.