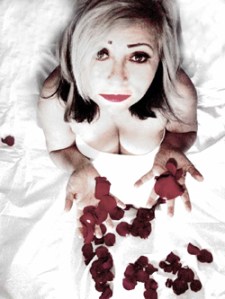 Around 10 p.m. on a brisk Sunday evening in early November, Penny Arcade, the Manhattan performance artist and former Warhol starlet, was onstage with a four-piece pickup band at Joe's Pub in the East Village. The petite and curvy Ms. Arcade, 58, who was wearing snakeskin platforms and a sleek back cocktail dress, explained she would be doing some improv. No big deal. Nothing too good, she joked. But before launching into the first number, a loungey "anti-careerism" piece called "No Mona Lisa," she took a moment to quote her friend Quentin Crisp, the late British writer, actor and raconteur who is the subject of a new biopic tentatively slated for release early next year on a U.K. television network.
"Before he died, Quentin used to say to me: 'Ms. Arcade, I'm going, you're staying. I feel sorry for you,'" she said in a raspy English accent, to bursts of laughter from the audience at Joe's. "But he also said to me, 'Not to worry, Ms. Arcade. Time is kind to the nonconformist.'"
The film, An Englishman in New York, which was shot almost entirely in New York this past September, is a follow-up to the acclaimed 1975 TV movie The Naked Civil Servant, so named for the autobiography that catapulted the flamboyant, openly gay and sometimes controversial Crisp—he once infamously dismissed AIDS as a "fad"—to fame in 1968 at the age of 59. It picks up in the late '70s when Crisp moved from London to the Lower East Side, where he was embraced by the arty downtown luminaries of the day, not least of all by Ms. Arcade, who became one of his closest friends toward the end of his life. Sex and the City star Cynthia Nixon plays Ms. Arcade in the movie.
Ms. Arcade, whose real name is Susana Carmen Ventura, has had a long and accomplished (if under-noted) career—or, to use the word Ms. Arcade might prefer, "vocation." She was a teenage superstar in Andy Warhol's Factory; has written and directed 10 original performance pieces, including her landmark 1990 sex and censorship communiqué, BITCH!DYKE!FAGHAG!WHORE!, and 2002's anti-Giuliani rant, New York Values; and she's performed in more than 30 cities worldwide, from Rio to Sydney to Vienna. Upcoming projects include a three-week run of a revitalized BITCH!DYKE!FAGHAG!WHORE! in San Francisco, and a new full-length show called Longing Lasts Longer, which will premiere in Frankfurt on Dec. 5. Needless to say, age hasn't slowed her down.
Still, after four decades working in New York as a full-time artist, she still doesn't earn a living here, hence her frequent jaunts to perform in other time zones. (What sounds ideal to us is work for others, apparently!) It seems like all the local bookings are going to people 30 years her junior fresh out of art school, she said, and also noted that no mainstream publication in this city has ever published a proper profile of her. (Indeed, Ms. Arcade claims this one is the first, although several shorter articles about her have appeared in the pages of this newspaper over the years.) What gives?
"America is obsessed with potential and dismissive of accomplishment," said Ms. Arcade, smoking an American Spirit in her Stanton Street apartment about a week before the Joe's Pub gig. "I fought that fight for a really long time in New York, and it's quite sad, but the truth is, there's no work here, even though the audience really clamors to see me and other people like me. There's no longer an artistic community. It's been decimated by real estate interests and the suburbanization of the city. I don't think you can say that too many times."
WHICH ISN'T TO SAY that Ms. Arcade is contemplating packing up for a Florida condo. In fact, she'd probably tell you her best days are ahead, that getting older means getting smarter and wiser and better. "People have actually bought into the idea that you have this point of view by the time you're 22 to 30, which is impossible," she said, incredulously. "How can that be? Wisdom is accrued over time, and there are no shortcuts in self-development."
Perhaps that explains why Ms. Arcade quotes Quentin Crisp so often. "Quentin was a phenomenal role model," she said. "When other people his age were ready to go into the nursing home, he came to New York and created a brand-new life for himself. So everything he said to me becomes of great value on a daily basis."