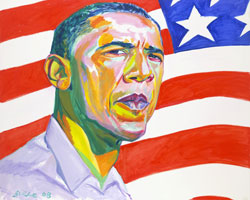 A portrait is an artist's attempt to encapsulate and fix character, whether it's been commissioned as an advertisement of power (all those pharaohs, kings, aristocrats and emperors) or something humble and intimate (think Rembrandt's sobering self-depictions). But in the end, impetus counts less than insight. The Met's marble bust of Caligula originally served as political propaganda, but what remains is cold, harsh truth.
Distinctions particular to portraiture came to mind when I was looking at Philip Burke's portrait of Kurt Cobain, frontman for grunge rock band Nirvana and a suicide at the age of 27. It's a jangled caricature made up of skewed lines, jabbing brush strokes and seemingly incompatible elisions of color. Cobain's right eye glares at us; the left eye is ratcheted upward and obscured by stringy hair. Compare Mr. Burke's Cobain to those by Elizabeth Peyton at the New Museum. Ms. Peyton paints a symbol of soppy adolescence. Mr. Burke, by contrast, paints the man who wrote a song titled Rape Me.
Mr. Burke is taken less with dreamy narcissism than with stark likeness. He'd better be: A commercial artist out of sync with the ephemeral nature of mass-produced periodicals is begging to have readers gloss over his illustrations on the way to the crossword puzzle. 
Immediacy and impact are Mr. Burke's stock in trade—the pictures grab and hold; they elaborate as well. Mr. Burke's double portrait of Mick Jagger and Keith Richards is hilariously concise: Mr. Richards' shambling integrity and rakish charm are rendered with dead-on acuity. We're reminded of who the soul of the Rolling Stones really is.
Regular readers know Mr. Burke's art well: His garish illustrations have been featured on innumerable covers. You'll recognize not a few when visiting "Philip Burke: Face Nation," an exhibition on view at Antiquorum gallery and mounted in association with The Observer. A formidable presence in the national media, Mr. Burke's illustrations have appeared in Rolling Stone, Newsweek, The New Yorker, The Times, Sports Illustrated, Vanity Fair—the list goes on.
Caricature is inherently pitiless; even the kindest exaggerations intend to reveal, not flatter. Athletes, politicians, rock 'n' rollers, film stars and the stray supermodel—Mr. Burke paints them as if they were molded from Play-Doh. Every feature—nose, chin, boobs and teeth—turns rubbery, knotted, lumpish or swollen; every attitude is brutally abbreviated. The palette is a queasy mix of cools, warms and oddly congruent clashes in tone. Oils—a famously difficult and time-consuming medium—are applied with speedy resolution. Mr. Burke's paint-handling slashes and burns with supple precision. Tight deadlines do that to an artist.
You'll find The Donald here; Princess Di, too. The president-elect beams as the American flag waves behind him. Ray Charles hugs himself, his cavernous laugh accented by explosive dark glasses. Bob Hope eyeballs us with well-honed unctuousness. John Lennon's face warps and swells, an unnerving distortion that condenses his arrogance and intelligence all the same.  Notwithstanding Mr. Burke's prevailing acidity, these portraits are relatively benign and sometimes surprising. Mr. Trump comes across as fairly haimish. Who knew?