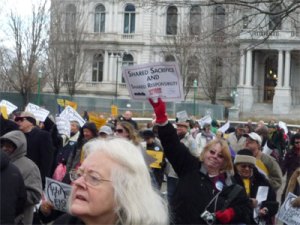 ALBANY—The halls are packed with lobbyists and legislators, the park outside is packed with demonstrators.
About 1,000 of them, according to Billy Easton of the Alliance for Quality Education. They arrived from around the state on over 30 buses to rally against David Paterson's proposed spending cuts.
The demonstration is being organized by two groups: One New York Fighting for Fairness and the Better Choices Budget Coalition. Their message: raise taxes on high-income earners and lobby for more federal aid.