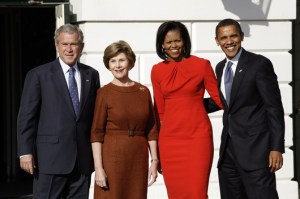 After opting for a controversial black and red number by New York designer Narciso Rodriguez on Election Night, Michelle Obama visited the White House today in a conservative (if snug) red dress by Maria Pinto, a Chicago favorite and creator of the blue dress Ms. Obama wore at the Democratic National Convention and the purple sheath she wore the night her husband claimed the Democratic nomination.
(This after a much-publicized appearance in J. Crew on The Tonight Show in the wake of news of Sarah Palin's $150,000 department store splurge.)
Mrs. O, a blog devoted exclusively to the fashion choices of the future First Lady, points out that Ms. Pinto, the Chicago designer, recently told the Wall Street Journal that she was hoping Ms. Obama would wear today's red dress on Election Night. Ms. Pinto also said that—bucking abysmal trends in retail—her orders have increased 45 percent in the past year on the strength of Mrs. Obama's repeated endorsements.
Mrs. Bush wore a comparatively dowdy rust-colored dress.