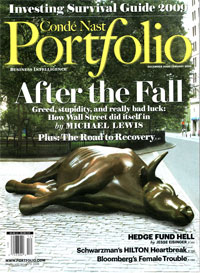 Two months after Lehman Brothers crashed, and one month after its puzzling Dov Charney cover, Portfolio has finally addressed the financial crisis.
Michael Lewis gets the cover story, and, defying the magazine's recent tradition, the lead image isn't a person. Portfolio's cover is an image of Wall Street's Charging Bull statue, flipped sideways lying under a cover line, "After the Fall."
In the time since the magazine's November release, Portfolio has been confronting a crisis of its own. The magazine has all but killed its Web site, it laid off 20 percent of its staff, the majority of its staff writers were laid off (with some getting an option to sign a contract), it was in serious danger of folding and it's publishing schedule has been downsized from 12 times a year to 10 times a year.
And apparently that has taken effect immediately: this month's issue is the publication's December/January issue. And, finally, the author of its cover piece, Mr. Lewis, has handed in his last assignment and now he's headed upstairs at 4 Times Square to Vanity Fair.