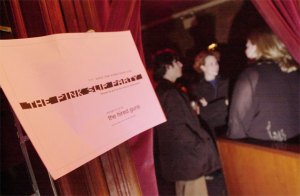 It's Wednesday, and yet already this has been a long week for some people in the media business. Sure, it's not as bad as the last week of October, which saw the closure of Radar and 02138, a 10 percent cut in The Los Angeles Times' newsroom, across the board cuts at Condé Nast, and—oh, yeah—the announcement of 600 jobs being eliminated at Time, Inc., but it was pretty bad. (Warning: If you're the person who told The Atlantic's Megan McArdle that this paper needs to be renamed "The Daily Layoff," stop reading now…)
On Monday, The New York Times closed down Play, its quarterly sports magazine. John Koblin talked to The Times Magazine's editorial director Gerry Marzorati who told him, "It was losing hundreds of thousands of dollars over several years and when you're not going to see that turn around, that's the problem."
Also on Monday, MinnPost.com's David Brauer brought news of imminent cuts at The Minnesota Star Tribune. The New York Post's Keith Kelly also reported a 3 percent staff cut at TV Guide. (No wonder Ad Age's Nat Ives felt compelled to write, For Thousands of Laid-Off Mag Employees, a Hard Road Ahead that day.)
Women's Wear Daily's Stephanie D. Smith had some details about restructuring at Forbes, which hit the magazine's sales and marketing departments. Ms. Smith warned "Though Monday's consolidation focused on the business side, the edit side is soon to follow." (Last week various outlets reported forbesauto.com was closing. Valleywag's Owen Thomas had the memo from C.E.O. Steve Forbes; Paid Content's David Kaplan said its entire staff was let go.) Mediaweek's Lucia Moses put the number of laid off Forbes employees at 43.
On Tuesday, Portfolio's Mixed Media blogger Jeff Bercovici reported that Condé Nast's Lucky was laying off three editors. Gawker's Hamilton Nolan reported that Time, Inc.'s Cottage Living would be folding. "[T]he economy inhibited its ability to grow and therefore, sadly, we had to make the decision to close it," Mr. Nolan quoted an internal memo sent to staff. Mr. Nolan also had a report that American Lawyer was letting go of nine employees, some in editorial.
And then it became Wednesday.