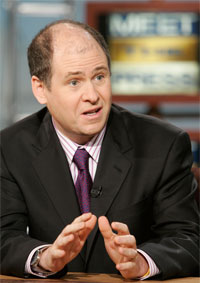 Not long ago Media Mob reported that The Washington Post's David Maraniss is in talks with Simon & Schuster about writing a book on President-elect Barack Obama. Now comes word that Newsweek columnist Jonathan Alter is, too.
The two books will be quite different: Where Mr. Maraniss means to write a retrospective biography in the tradition of his Bill Clinton book First in His Class, Mr. Alter is planning to look at President Obama's first year or so in office, starting at his inauguration and ending "at some point midway through 2009."
Speaking from his phone in Chicago, Mr. Alter said he plans to write about the Obama administration the way one might write about an internet start-up company. He said he wants to write about "what happens when an irresistible force meets an immoveable object in the form of Washington, D.C. and the status quo," and predicted that the theme would be "the reality of hope."
Mr. Alter's last book, The Defining Moment: FDR's Hundred Days and the Triumph of Hope was recently mentioned on Larry King Live by Paul Begala, who said that President-elect Obama had been quoting from it and invoking its title.