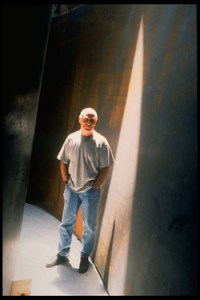 Lives of the Artists
By Calvin Tomkins
Henry Holt and Company,
272 pages, $26
Calvin Tomkins' new book, Lives of the Artists, is pure entertainment. Never mind the bland and even ugly jacket (a shame, since the Oxford edition of Giorgio Vasari's Lives of the Artists, from which this book takes its name, features Vasari's own Saint Luke Painting the Madonna, a lush and relevant choice of illustration)—Mr. Tomkins' essays, all profiles from The New Yorker, are across the board engaging and smooth and welcoming in the magazine's signature style. Although one could go down a very long and winding path with the sexual significance of Jeff Koons' gigantic stainless steel casts of balloon animals, or into the psychology of Cindy Sherman's decades of playing dress up, Mr. Tomkins mostly avoids those exit ramps and turnoffs, sticking instead with the artists' actual lives, and how they connect with their work. These are mostly friendly pieces, for subject and reader, and they're fun.
That's not a backhanded compliment. Looking at art is one of the most confusing and alienating public activities we can participate in; we might have a gut response—I like that or I don't—but it's hard for those of us without a language to interpret pictures and sculptures and videos and whatever else to explain exactly what it is that moves us one way or another. Mr. Tomkins offers us another way in: By approaching the work through the lives and processes behind it (traveling, for instance, into James Turrell's Roden Crater or to the London opening for one of Matthew Barney's Cremaster films, where the artist and his crew installed a giant wax, Vaseline and plastic sculpture that sort of intentionally oozed all over the theater lobby), we glean a new way to engage with and talk about the art. Even if you aren't persuaded to like something more than you did—and persuasion isn't Mr. Tomkins' game at all—you might at least understand why someone else does.
There are 10 contemporary artists profiled in Lives of the Artists: Damien Hirst, Cindy Sherman, Julian Schnabel, Richard Serra, James Turrell, Matthew Barney, Maurizio Cattelan, Jasper Johns, Jeff Koons and John Currin. The selection seems to have as much to do with covering various media—painting, sculpture, photography, performance—as it does with the stature of the artists, though this is surely a collection of "art stars" if ever there was one. (I did wish another woman or two had been included: Kara Walker? Jenny Holzer?) It was perhaps inevitable that the book would start with Mr. Hirst, who's famous in that Jackson Pollock, kitchen-table-conversation, couldn't-I-have-done-that? way, but Mr. Hirst makes a sort of annoying lead to the book; the piece is more Vanity Fair-ish than the others, if only because Mr. Hirst would make just as good a subject for that magazine as for The New Yorker. And of course, for better or for worse, the likability of the profile depends somewhat on the likability of the subject. (On that score, Cindy Sherman, James Turrell and Matthew Barney are the big winners here.)
Even when he's dealing with big egos, Mr. Tomkins manages to keep the focus on the work. His piece on Julian Schnabel, which ran in The New Yorker just as Schnabel's second film, Before Night Falls, was being buzzed over for various awards, conveys the truth of the painter-filmmaker's talent as much as his obnoxious self-regard and lust for the spotlight. For his profile of the painter John Currin, who uses Old Master techniques in his suburban critiques and pornographic canvases, Mr. Tomkins not only cozied up to the artist's parents but also visited Mr. Currin's studio week after week to check on the evolution of a particular painting. The painstaking progress of making art is all there. Reading about the sculptors—Messrs. Serra, Turrell, Koons and Cattelan—forces us to understand the math and intellectual work behind pieces even if they leave us cold. They're humanized.
BUT WHERE ARE THE photos? Where's the art? With his concise, evocative (but not florid) descriptions, Mr. Tomkins gives us something to work with, and yet I found myself Googling a personal appendix to the book. We can only assume that going sans illustrations (inside and out) was a financial decision. It devalues the book.
That his essays create a longing to see the actual work is a big compliment to Mr. Tomkins—he makes you want to go out and look at art. When I first moved to the city, in 1997, I regularly made the rounds of the Guggenheim, MoMA and the Whitney (all cheap on Fridays!), as well as the downtown galleries, especially the Drawing Center. And then … I stopped. You get used to New York, you stop doing all those wonderful New York things. And eventually, New York becomes the place where you live more than the greatest cultural center in the world. Calvin Tomkins reminds us why we came here in the first place.
Hillary Frey is a senior editor at The Observer. She can be reached at hfrey@observer.com.