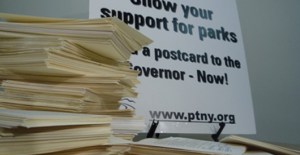 ALBANY—As people from all manner of ideological and interest-group affiliation lobby not to have their funding slashed under a darkening fiscal cloud, parks advocates are arguing for $100 million to improve and bulk up parks infrastructure around the state.
"The state parks system plays a vital role in our economic engine," said Tim Sweeney, the chief park advocate at Parks & Trails New York, at a press conference. He laid out his case: there were 55 million visitors to state parks last year, he said, spending money both in and around parks. And the $95 million appropriated in this year's budget for capital improvements resulted in 1,000 construction jobs in 57 counties.
"We believe that investing in state park infrastructure will pay great dividends for our environment, I mean, economy," he said. More than just a Freudian slip: the fiscal argument is showing up where moral arguments once reigned.
To support their case, the coalition of groups – which in addition to PTNY includes the Sierra Club, Scenic Hudson, Adirondack Council and Audubon New York – showed off 4,000 post cards from around the state they have gathered.
The hope is that David Paterson will include another $100 million or so for parks improvements when he presents his budget next month. But given the state's mounting deficit, the odds are long.