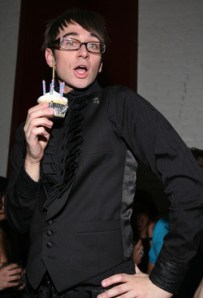 At his birthday party Tuesday evening, Project Runway winner and increasingly legitimate designer Christian Siriano was in high spirits as he made his way around Citrine on West 21st St., pausing for impromptu dance-offs with friends and later, grinning over platters of cupcakes festooned with sparklers. (The Daily Transom didn't manage to sample one, but they looked good.)
Post-dessert, we asked Mr. Siriano if he had any special goals for the evening.
"To have a fabulous party with every fabulous fashionista."
Did he feel old?
"No! I'm 23! I feel young."
At what age, we wondered, might be start to feel the weight of mortality?
"Never, I don't think… When I'm 70, I'm still going to wear ruffled blouses."
Mr. Sirano, who had abstained from the Tranny Mess cocktails available at the bar because he wanted to "be there," informed us that he is hard at work on a book and preparations for February Fashion Week. Was there any validity to rumors of an upcoming Gossip Girl appearance, we wondered?
"I hope so… I think so."
What might the part consist of? 
"I don't know," he said, turning coy. "There was something said, so maybe."
DJing the party were the Misshapes, whose once ubiquitous presence has been somewhat diminished over the past year. After some awkward high-heeled ladder-negotiating, we managed to pull ourselves into the elevated DJ booth, Tranny Mess somehow still in hand.
Did they usually submit to interviews while DJing, we wondered as we tried to avoid involving our shoes with the wires curled on the floor.  
"Not usually, no. This would be the first time," Geordon Nicol said.
"Forgive us, because we'll have to stop in… three minutes and one second. We're gonna switch the song," apologized Leigh Lezark, who was sporting a puffy-shouldered blouse and her signature flawless hair. 
Trying to think quickly, we asked if they were fans of Mr. Siriano's. 
"We're good friends of Christian's. It's not so much fans as, when you have a friend who's so talented, you have to support him. And he supports us," Mr. Nicol explained.
It turns out they don't normally do birthday parties. What about bar mitzvahs?
"No!" said Ms. Lezark.
"I wish we did a bar mitzvah," Mr. Nicol said.
"The thing is, we don't want to emcee," said Ms. Lezark.
"If it was a friend's kid having a Bar Mitzvah, it would be so much fun to do, but the idea of emceeing–of really getting people going…" said Mr. Nicol.

"We don't do the chicken dance," Ms. Lezark smiled.
"Not quite our shtick, but it could be really fun to have a Bar Mitzvah…I think it would be extremely entertaining," Mr. Nicol concluded.
So, if not the hora, what had they been up to lately? 
"Working on our website. We're possibly DJing every fashion week from Milan to Paris to London to New York. Traveling and DJing, and we keep modeling and doing campaigns," Mr. Nicol said, reminding us that Ms. Lezark had been doing a lot of "editorial" work, in addition to her shoots for Hogan and Gap. 
Somehow, we'd missed usually edgy Ms. Lezark's Gap campaign. Perhaps she hadn't always been so fashion forward?
"The thing was, I had an upbringing where kind of the beauty queen was the ideal. Always dresses and very done up like a doll, so of course I contested as soon as I was old enough. I dyed my hair black and started wearing all black and I would buy my own clothes in any size and alter them. I always watched fashion. I just grew up in Jersey," she added. "It's not that far away."
And what's the next big project?
"Our New Year's party, I guess," Ms. Lezark began. "It's…"
"Quiet! We can't say where it is yet," Mr. Nicol shouted. "Shut up."
He added: "We're doing something really special," he explained. "There's two live bands performing. It'll be announced in the next couple weeks. A huge, legendary band and really new, exciting band."
Did they miss the old weekly parties?
"No," Mr. Nicol said. 
Ms. Lezark seemed less sure: "Sometimes. Because we used to know all our friends would always be at Misshapes on a Saturday night and it's kind of sad not to see everyone every week. But we still make time to see all of them."
"We miss our friends and seeing them so much, but we've been traveling so much that in the past two months we've been everywhere from to Rome to Norway to Barcelona and Madrid, Paris, London…" said Mr. Nicol.
"Australia," she reminded him. "Ibiza."
So, they're still going out, just not in New York? 
"We still go out here," Mr. Nicol assured us. "We're actually starting a new thing at the new Standard Hotel. We don't do any weeklies anymore because we're not in New York as much as we used to be, but New York is our home, so we'll always do something here."