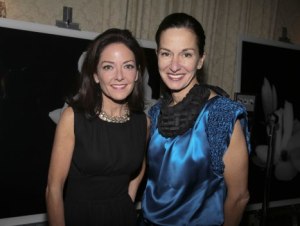 Margaret Russell, Elle Décor's editor-in-chief, is so over the $22,000 picnic basket.
Several months ago, she said, her magazine ran an item about just such a high-end weave. "I would never dream about doing that now," Ms. Russell said. "It just seems vulgar, and vulgar is not a word I want to associate with our magazine.
"Everyone's staying home and feeling very pro-American now," she added. If you have to splurge, she suggests quilts: "things that really feel right, and humble in a good way."
Ms. Russell moderated an Elle Décor-sponsored interior design panel on Monday evening at the Pratt House. The evening was partly planned to honor Savannah College of Art and Design president Paula Wallace as the recipient of Elle Décor's first "Women in Design" award.
Otherwise, in Ms. Russell's own effusion, it was more like The View, complete with five women around a coffee table.
Fashion designer Cynthia Rowley, also a panelist, related the story of her first apartment, which was "like a spaceship that landed in Manhattan… all white, with a 2-year-old." Every time one of her kids spilled something, she covered it with a carpet dot; and, when the dots took over, she said, they picked up and moved to a new townhouse (now with kid-friendly dark floors).
Resplendent in a pink satiny robe, interior designer Celerie Kemble was the youngest of the five panelists, which included designing grand dame Bunny Williams, and also the most talkative. In her words, helping a client decide what they want sounded more like being a gal pal than a designer. "It's when they start covering their mouths, like you can sense that funny glee, you have to carry them in that direction."
Architect Annabelle Selldorf, whose eponymous firm did the new Neue Gallerie, offered a more direct approach to client negotiations: "As much as I like to indulge their ideas… you have to kick them in the shin."
But more clients, the panelists said, may be skittish because of the rougher economic times. An interior redesign often doesn't top their lists of must-dos.
"Buy art," Ms. Rowley said. "That's the only thing I buy now."