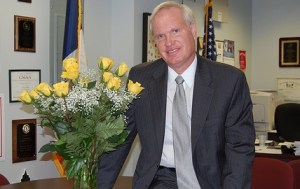 Democratic City Councilman Tony Avella of Queens doesn't think he'll have a primary when he runs for mayor next year.
"I'm not so sure the other two actually run," said Avella, referring to his known rivals, City Comptroller Bill Thompson and Representative Anthony Weiner.
Talking to me as he looked through some papers before a hearing of the City Council's Higher Education Committee in City Hall, he explained his logic.
Weiner, he noted, ran in 2005 and lost. Assuming he'd lose again if he ran this year, Avella said that it would be "extremely difficult" for Weiner to run for a third time in 2013.
Then, referring to the comptroller — who hasn't been able to overcome a perception around City Hall, no matter what he says, that he's not serious about running next year against Bloomberg — Avella said, "Bill Thompson can run for reelection."
Avella said that normally, for lesser-known candidates like himself, a long, drawn-out primary would serve the purpose of boosting name recognition. But with a Bloomberg's limitless resources awaiting the winner, Avella said, that kind of strategy won't work.
If there's a primary next year, there will be a "short time to get a message out" against Bloomberg. Avella said, "Not to have a primary, but one nominee, would be the best thing. No doubt about it."