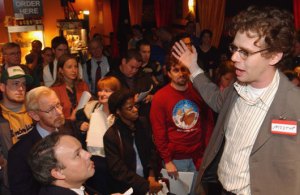 On Nov. 11, Scott Heiferman looked small standing in front of the glowing, 11-foot-high video walls in the lobby of Barry Diller's glittering, $100 million InterActiveCorp building on West 18th Street. "There's a great President-elect Barack Obama line which is: We're the ones we've been waiting for," he said, microphone in hand, buttoned-down shirt unbuttoned.
Mr. Heiferman, the charasmatic co-founder and chief executive of social networking site Meetup.com, was pacing on a stage in front of 400 Internet entrepreneurs, venture capitalists, developers and miscellaneous geeks. The at-capacity crowd shelled out $10 each to attend the New York Tech Meetup, the monthly must-do event for the city's technology community, where budding start-ups have five minutes to pitch their new projects. Mr. Heiferman founded the group and has been its organizer for the past four years.
"There's a more popular Barack line which is: Yes we can. Yes we can, what?" Mr. Heiferman continued. "How do we put technology on the map better at this time? The only way I can figure out how to do it is for me to step down as the organizer of the New York Tech Meetup."
The crowd was surprised, to say the least; the announcement created a big shake-up in a relatively small community. Mr. Heiferman, 36, hoped to anchor the city's sprawling Web 1.0 bust survivors and Web 2.0 start-up entrepreneurs when he hosted the first New York Tech Meetup in his office in 2004. "The most embarrassing thing happened," he said. Only one person showed up: his friend Dawn Barber, an organizer of the New York New Media Association. She became a co-organizer for the NYTM, which now has more than 7,500 members.
Mr. Heiferman also announced that a new organizer will be elected next month by NYTM members. An 11-member board, comprised of prominent members of the tech community, will help the new organizer. "This should be a mini-U.N. of all the tech communities in New York," Mr. Heiferman said. Currently, he does not plan to serve on the board.
Mr. Heiferman said he had been thinking about reconstructing the Meetup for months.
"There's so much passion out there and there's so much energy that needs to be corralled and harnessed, and I don't have the time for it," he said. "I'm a speed bump. … I'm a roadblock for this organization and it's time for it to go to that next stage."
"The end of an era," was the subhead on Silicon Alley Insider, an online digital business news site, announcing Mr. Heiferman's resignation, along with a quote from tech publicist James Bruni's Twitter: "expect high drama in silicon alley."
But there was already plenty of drama in the New York tech community before Mr. Heiferman vacated his post.
On Oct. 8, Allen Stern, a New York-based technology blogger in his mid-30s, posted on his blog at CenterNetworks.com, charging Mr. Heiferman with favoring "Friends of Meetup" at the event. Mr. Heiferman and Ms. Barber pick and choose which start-ups are allowed to give a five-minute dog-and-pony show in front of hundreds of possible investors or new customers each month. Competition is fierce. The schedule is tight, and less than a dozen spots are open each month. Some start-ups apply to present on the New York Meetup's online community board. Others simply get in touch with Mr. Heiferman or Ms. Barber because they know them personally.
At the October Meetup, Charles Forman of ImInLikeWithYou.com, a social networking and gaming site, presented for the third time in a year; Mr. Heiferman has a personal investment in Betaworks, the firm that invests in ImInLikeWithYou.com. "Well now my Columbo hat just got a bit higher on my head," Mr. Stern wrote. "What else might be going on here?" He claimed that Mr. Heiferman gave special treatment to companies that he is connected with, financially or socially, leaving frustrated, unconnected start-ups to suffer in obscurity.
"How many people are out there fighting and busting their ass and bootstrapping and nobody knows about them?" said Mr. Stern, sitting in the Starbucks at 52nd Street and Eighth Avenue last week. He said many entrepreneurs talked to him in that same coffee shop "sad and disappointed" that they never got the chance to present at the New York Tech Meetup. Mr. Stern has his own startup, CloudContacts.com, which scans business cards into an online Rolodex with links to social networking sites to boot. He has never presented at the NYTM, but he records the presentations with a handheld camera and posts them on his blog. "It's the pimping of the same crew all the time. I want everybody to get visibility."
In his post, Mr. Stern outlined the connections Mr. Heiferman had to the presenters, and there were a few. Indeed, some argue that it'd be hard to find too many people in the relatively small tech community to whom Mr. Heiferman and Ms. Barber aren't connected. According to Mr. Stern, however, the bottom line is simple: "[I]f we want NYC to kick ass in the world's tech community, we have to stop favoring a few 'friends' and let everyone get time on stage," he wrote.
Mr. Stern said he received hundreds of e-mails applauding him for pointing out the NYTM's alleged unfairness, although most of his supporters never made public comments. "I totally understand that it's very difficult to stand up and voice your opinion even though ya'all will share it with me in private," he wrote in his original blog post. "Don't worry – I will keep fighting for transparency and will post a 'connected list' each month until we see some positive change – call me Maverick Allen."