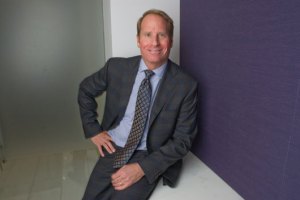 It was 10:30 on an overcast Monday in early November, and Kent Swig, one of New York's biggest landlords, was sitting at a conference table in the chic seventh-floor offices of his 20-story building at 770 Lexington Avenue. The windows framed a dreary autumn morning on the Upper East Side.
Mr. Swig, 47, wore a dark suit and navy blue tie, printed with abstract orange flowers. The wrists of his French-cuff shirt were fastened with hand-carved wooden links. His face was reddened, as though from too much sun, his blond hair slightly receding. He had the aspect of a sportsman, but when he sat down, he seemed more like the hunted. And who could blame him?
It was a little more than two weeks since the New York Post had run "Mogul Busted in 'Ice' Folly." A business partner of Mr. Swig's, Yair Levy, had grabbed an ice bucket from the attorney's office where they'd been meeting and walloped Mr. Swig over the shoulder and hand.
The real estate world chuckled. While the Post reported that the ice-bucket incident was rooted in a dispute over failed plans on the Upper West Side, Mr. Swig, when asked what prompted the altercation, professed ignorance.
"Why did he do that? I don't know," Mr. Swig said, an opaque smile on his face. "There was no argument at the time. I was speaking with somebody else. We were in a room with a lot of people. … I don't even want to know why somebody would do something like that."  He said his relations with Mr. Levy are now "chilly," pun intended.
Scion of a San Francisco-based dynasty founded by his late grandfather that now controls over 9 million square feet of office space nationally, Mr. Swig has ridden the New York real estate boom to local prominence, acquiring in 2004 alone marquee commercial properties like 80 Broad Street (for $70 million); 110 William Street ($164.5 million); and 44 Wall Street ($65 million).
He also co-owns Terra Holdings, which operates residential brokerages Brown Harris Stevens and Halstead Property, and he bought the commercial brokerage Helmsley Spear in 2007. Swig Equities, where he's president, controls over 4 million additional square feet of office space nationwide and more than 1.5 million of residential in New York, with a large footprint in the Financial District.
Despite his resources, Mr. Swig, like others who gained a sort of rock-star notoriety during the recently departed boom, has felt the sting of its spectacular bust, with three prominent Manhattan projects, all begun in 2005, publicly foundering.
FIRST WAS HIS and Mr. Levy's plan to build nine stories of condos atop two six-story rental buildings at 201 West 92nd Street and 200 West 93rd Street on the Upper West Side, which they bought for $54 million. The proposal angered existing tenants, and the developers backed down following city intervention. They ended up selling for $61 million, but not before Mr. Swig technically defaulted on his $52.49 million loan, according to The Real Deal magazine.
Also, in 2005, Mr. Swig dropped $260 million on 25 Broad Street, a lovely 1902 rental building with a grand, marble-encrusted lobby. Mr. Swig says the renovation of the 346-condo project is complete, but that, thanks to the September collapse of his financier, Lehman Brothers, he has been forced to halt sales (only about 15 percent of the units are in contract).
It's counterintuitive, but one industry insider who's worked closely with Mr. Swig said that Lehman's demise may actually have been good for the developer, serving as a useful cover for a project gone awry. "The Lehman thing is really saving his ass," the insider said. "Before Lehman was going under, he had no sales."
Mr. Swig has also blamed Lehman for the stalling of his and Robert De Niro's plans for a Nobu Hotel and Residences in the Financial District, which was supposed to rise 62 stories at 45 Broad Street and contain 77 luxury condos, 128 hotel rooms and 13,000 square feet of retail.