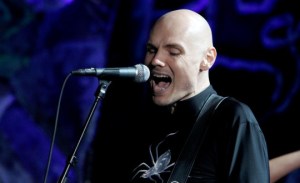 What the hell is up with Billy Corgan? Reports from the Smashing Pumpkins' 20th Anniversary Tour—the Pumpkins, of course, consisting only of Corgan and drummer Jimmy Chamberlain—have roused fans' ire again and again with set-lists bereft of hits, endlessly wonky space jams (notably with their cover of Pink Floyd's "Set Controls for the Heart of the Sun"), and Billy's self-pitying, crowd-hectoring monologues.
During the second night of the Pumpkins' hugely-disappointing two-night stand at Harlem's United Palace earlier this month—the Pumpkins' first time in the city in almost a decade—things got so bad, Billy actually invited a fan on-stage to vent his frustration. "Last night's show sucked," the guy said flatly, before handing the mic back to Corgan. When the fan had safely left the stage, though, Billy offered this witty rejoinder: "By the way, I liked that song you wrote. What was it called? 'Take Your Dick Out of My Ass and Stick It in My Mouth'? That was a big hit in Europe." All of which, of course, was a huge hit with the audience.
In D.C. a few days later, Billy got a couple middle fingers, before inviting a faux-James Iha on stage and heading off on a rant about his unblemished artistic integrity. And then in Chicago this week, shit hit the fan again. During the band's encore, "Everything is Beautiful"—a tune Billy has taken to using as a platform for crowd mockery—things devolved into a ten-minute monologue featuring masturbation fantasies involving Sarah Palin and more painfully awkward self-criticism. And the whole thing was caught on tape. Our personal favorite quote: "Last I checked we were in an alternative band. 'Alternative' means 'different than what everyone else is doing,' including those reunion bands that go out and just play the old songs." Yeah, and last time we checked you still had a dedicated fan-base. More shows like these, and it won't matter what kind of band you're in.