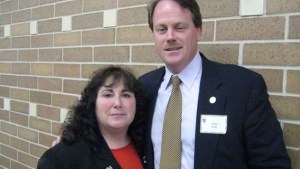 Assemblyman Michael Doherty seems to be playing out of the Bill Baroni playbook: Doherty is rapidly rolling out endorsements to scare the Assemblywoman from his district out of a race for an open State Senate seat. Two weeks after Leonard Lance won a seat in Congress, the Doherty for Senate campaign is in high gear, and Marcia Karrow has a deer-in-headlights thing going on as she mulls her own chances to move up to the Senate.
Karrow, according to Republican leaders that have spoken with her, believed her Hunterdon County base would propel her to victory in a special election convention where the voters as GOP County Committee members. But Karrow is reportedly frightened to give up her Assembly seat and move up to the Senate, just to be taken out by Doherty in a Republican primary, where the conservative Warren County legislator might have an advantage. If Karrow passes on the race (she may have to now that she's lost two crucial weeks in a short campaign — Doherty is now the strong front runner to succeed Lance), it is because of her fear of being out of a job after just one year in the State Senate.
One possible miscalculation by Karrow: Doherty is a blinker who has already passed up a number of chances to run for higher office, including a primary challenge against Lance last year and a race for the U.S. Senate. Had Karrow been the incumbent Senator, it's possible that Doherty would have blinked and not given up his Assembly seat to run for Senator.
While Karrow considers her chances, she's keeping another possible candidate, Hunterdon County Freeholder Matthew Holt (the grandson of former U.S. Senator Clifford Case) on the sidelines.
This is what Baroni did to Democratic Assemblywoman Linda Greenstein in early 2007, when incumbent Peter Inverso announced his retirement. By rolling out labor endorsements that rarely go to Republicans, Baroni effectively scared Greenstein out of the race. His three-week stealth campaign, run while Greenstein polled and mulled, was all he needed. The eventual Democratic nominee, former Public Advocate Seema Singh, got crushed by Baroni in November. Greenstein, taking the safe route, won re-election to a sixth term in the State Assembly.
And now John DiMaio, the Warren County Freeholder Director, is also using the Baroni/Doherty playbook: he announced yesterday that he will run for Doherty's open Assembly seat, getting a jump on potential candidates from Hunterdon.