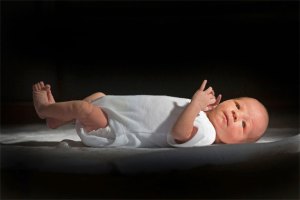 Stop us if you've heard this one before… According to Page Six The Magazine, some Manhattan parents are so desperate to give their children a leg-up on their peers, they're sending them to Mandarin classes! (And Hindi! And French! And German!)
Page Six's Jennifer Rose quotes a parent named Brett Hauser, who pays $395 for his 6-month-old son to take 10 sessions at The Language Workshop for Children saying, "Mandarin is the language of our future. With China poised to become the world's leading economy sometime this century, I'm doing the only responsible thing. It's like reading to your kid or making sure he gets all the right foods. I'm helping him prepare for his future. Thirty years from now these kids are going to be translating for all of us."
The magazine calls this phenomenon "NYC's New Baby Talkers."
Talkers, yes; new, no.
New York Parents have apparently been trying to teach their kids Mandarin via classes, nannies, au pairs, and other means for years to judge from a cursory search.
In March 2005, Alexandra Wolfe wrote about well-heeled kids learning Mandarin for New York Magazine because, according to one school's headmistress, "We were thinking, How do we prepare them to be citizens in a global economy?… I would argue that if they can say bonjour in French, they can say 'thank you' in Chinese."
In April 2005, Sarah Baxter of The Times of London also looked at this trend, quoting a parent as saying, "China is going to be the next great country in the world… We thought we should start to prepare her at birth for what will be the most important language in her lifetime." (Not surprisingly, this parent was a banker; Mr. Hauser, quoted by Page Six "works in private equity for an investment management firm.")
Germany's Der Spiegel also caught wind of this trend in January 2006, as did Crain's New York Business. The BBC also got in on the action, all of which prompted blogs like Daddy Types and Mediabistro's FishbowlNY to each cast a skeptical eye on the trend.
And yet, The New York Times kept it going in September 2006. And it wasn't just New York: The San Francisco Chronicle's Jill Tucker reported in April 2007 that kids were taking immersion classes in Mandarin, a story that CNN's Anderson Cooper also reported in June 2007.
By November of 2007 (that would be a year ago), The Economist had had enough, calling all of this a "False Eastern promise" and declaring, The craze for teaching Chinese may be a misguided fad.
Maybe. But it appears not to be going away anytime soon.