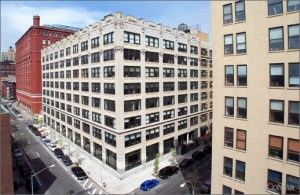 The New York-based real estate private equity firm Brickman has dropped $96.5 million on 95 Morton Street, an eight-story pile of bricks at the corner of Morton and Washington streets. The Fifth Avenue firm signed the deed on Nov. 21.
The Hudson Square building dates back to 1911, has 203,412 square feet and is home to tech clients like SAP and SpiralFrog.
Lincoln Property Company bought the building from Stellar Management Company in 2003 for $66 million. According to a Nov. 3 article in trade magazine Real Estate Finance and Investment, Lincoln was merely the agent for the State of Illinois teachers retirement fund.
According to Real Estate Finance, CBRE's Darcy Stacom and Bill Shanahan represented Lincoln in the recent transaction.