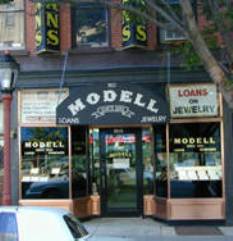 While most of New York watches as its fortunes sink with Wall Street, at least one city industry is running ahead of the economic course: pawnshops. Pawnshops operate by irregular economic indicators. The worse things look on the outside (foreclosed signs) the nicer they're apt to look inside (diamond rings, hundred-year-old family heirlooms hocked for scratch, etc.).
A story in the Post on Saturday about the boom among Beverly Hills pawnbrokers got us thinking.
In Los Angeles, apparently, they have pawnbrokers who specialize in turning art collections into quick cash. So where would a New Yorker go to convert his or her Andy Warhol print of a $20 stack of bills into x or, given the exchange rate, 1/x, times the real thing?
The answer is complicated.
As Eric Modell, president of Modell's, a 100 plus year old chain of pawnshops with midtown locations on West 47th St. and 23rd St and Lex., explained to The Observer, most pawnbrokers are not comfortable when it comes to appraising the value (not aesthetic) of a work of art.
"In the art world all things are subjective," Mr. Modell said. "We know diamonds."
But as Robert Rogal, director of the Ro Gallery, a fine arts dealer on Long Island City who buys artwork on consignment, said, the recession has seen an uptake in the number of collectors who want to sell their art-and quick.
"A lot of people have come to us with art work they want to sell quickly," he said of his gallery, which sells prints and original artworks by Robert Rauschenberg, Tom Wesselmann, and Agam, mostly from its website. "We work more immediately than the auction houses. We'll buy things outright."
Not just desperate types, either. "Dealers bring me stuff as well," he said. "Stuff they've had hanging around the gallery for a while and haven't been able to sell.