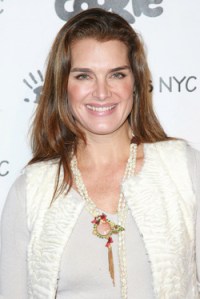 "I feel like a politician," Brooke Shields told the Daily Transom at Sunday afternoon's Kidsfest, a benefit for Free Arts NYC held at the Urban Zen Center on Greenwich Street. A fan had just asked her to pose with his baby. "He just handed me a baby. I was like, 'Uhhh, okay!' It's a good thing I'm a mom!" 
"My son is overloading right now on sugar," observed designer Lela Rose, pointing to a small blond child tearing into a self-frosted cookie. "He's going to have an allergic outbreak."
"They are so intently doing art, it's crazy," Ms. Shields told us, sounding pleased. "Grier's over here and Rowan's making a piggy bank," she said, referring to her daughters.
We changed the subject to the recent bad news about her show, NBC's Lipstick Jungle.
"It's not true! No, we've not been canceled, it's yet to be canceled. They're not knocking down our sets. People have been sending lipstick to [NBC President Jeff] Zucker by the droves and lobbying and people just are so…" She paused, tapping something into her iPhone. 
"Ha! Right now, our executive producer just got a call today. 'Do not knock down the sets.' There you go. 'Don't strike the sets,' there you go! That's so great. Okay, good."
So, what exactly is the problem, then? 
"We're so popular with DVR. We have such a following. The problem is people aren't watching it live and that affects advertisers and that means money. So, basically, they're just trying to figure out a way to reconcile our huge fanbase with advertisers and making sense for them financially… Right now, what we're saying is, we're trying to get the word out to follow what these other people are doing. Send lipstick, send a picture of yourself with lipstick to Zucker at NBC—he's probably the best."
Ms. Shields returned her attention the the iPhone. "The problem with this is you can't search." 
"I have it on mine," Ms. Rose told her, waving her Blackberry. "They're asking people to send lipsticks, to send it to Jeff Zucker," she read. "30 Rockefeller Plaza, 52nd floor New York, New York 10012! And Ben Silverman: 100 Universal City Plaza, Building 1280, Floor 11, Universal City, California, 91608!"
She added: "We love the show. We're like, 'send lipsticks!' It's so good and fun, the fashion community is all sending lipstick to support it."