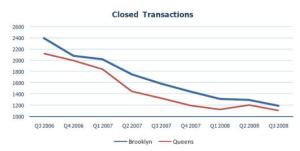 Brooklyn and Queens in the third quarter of 2008 recorded their lowest number of apartment building sales in two years, according to new data from PropertyShark. Brooklyn notched 1,189 closed building deals in the three months ending Sept. 30, and Queens notched 1,107. (The PropertyShark data defined apartment buildings as those buildings with at least two residential units.)
Not surprisingly, too, the total dollar volumes of apartment building sales were the lowest they've been in two years in both boroughs: $929 million worth of deals for Brooklyn in the third quarter, and $730 million for Queens.
Brooklyn and Queens mirrored a similar downward trend in Manhattan and in the city overall.