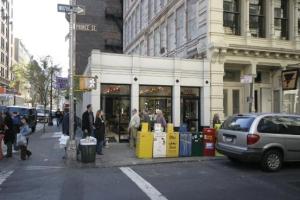 Camper, the Majorca-based shoe retailer, has purchased an appropriately stylish little one-story building at the corner of Prince and Greene streets for $16 million.
Camper closed the deal on Nov. 13, according to city records, buying the building from Charles Rosenblum.
Heather Ryan, Camper's U.S. retail manager, told The Observer that for the time being, Camper intends on acting merely as a landlord. Right now, the one-story building is home to two tenants — including Face — both of which have long-term leases.
But ultimately, Camper might put another outlet there. And, the site "has the potential to build if we want it to," Ms. Ryan said.