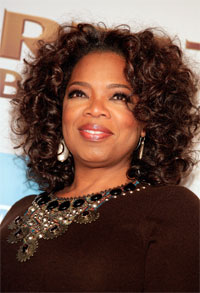 Since at least the mid-90s, Oprah Winfrey has been credited with reigniting the publishing industry with her Oprah's Book Club. More recently, she's done her best to boost sales of Amazon's Kindle. But can the most powerful woman in media save daily newspapers? (Please.)
The Chicago Sun-Times' Mark Bieganski sure hopes so. In a blog post on his paper's Oprah blog, Mr. Bieganski does a little victory dance over Ms. Winfrey's endorsement of… The Chicago Sun-Times. (This link comes via Jim Romenesko.)
Writes Mr. Bieganski:
For the third time in two weeks, Oprah Winfrey showed a little love for the Sun-Times.
On today's 'Friday's Live!' show from Harpo Studios, Winfrey held up a cover of this week's Sun-Times featuring a historic meeting of the Obamas and the Bushes at the White House.
"You're rockin', Sun-Times," she said to America.
According to Mr. Bieganski, Ms. Winfrey also told Will Smith, "It was the best paper of all the papers in the world."
Now, if Ms. Winfrey can just endorse the other 592 daily papers in America…